Looking for an honest Scribie review? Wondering if it's legit or just another scam? Well, you've come to the right place!
In this comprehensive Scribie Review, I'll cover every details about Scribie including transcription job opportunities, payment rates, application process and more.
So, if you're eager to find out if Scribie is worth your time and effort, read on to get all the essential insights.
Scribie Review Summary
• Pay Rate: $10 per audio hour
• Payment Method: Paypal
• Job Availability: Medium
• Countries Accepted: Worldwide
• Requirements: No
• Is Scribie Legit?: Yes, Scribie is legitimate company. It has paid over $4 million to transcriptionist.
What is Scribie?
Scribie is a transcription service that was founded in 2008 by Rajiv Poddar. It provides a platform for individuals to transcribe audio and video files into written text.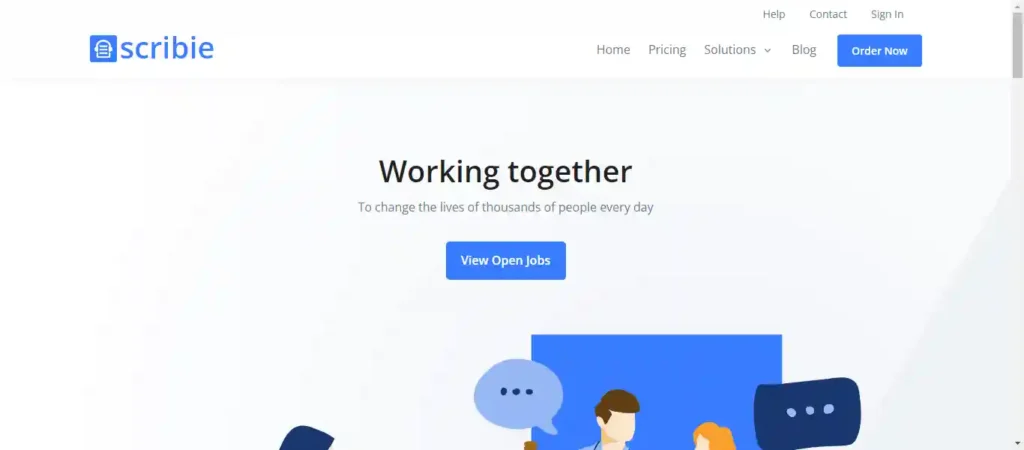 Users can submit their files, which are then assigned to transcribers who convert the content accurately. Scribie offers a straightforward and user-friendly interface to make convenient for both clients and transcribers.
How much does Scribie pay?
Scribie follows a transparent payment structure based on the duration of audio files transcribed, rather than the time taken to complete the task.
Scribe pays $5 to $20 per audio hour depending on skills and time spent. It's important to note that an audio hour refers to the length of the audio file and not a regular hour.
An intermediate transcriptionist can make $800 per month working 8 hours a day. This number goes to $1600 for an advanced transcriptionist.
Scribie pays its transcriptionists via PayPal.
Is Scribie a Scam?
No. Scribe is a legitimate transcription company. Scribe has paid more than $4 million to the transcriptionist till May 2023. Here are some reasons that prove Scribe is a legitimate transcription company.
Legitimate Business: Scribie is a legitimate transcription service provider that has been operating since 2008. It has established a solid reputation in the industry and has served numerous clients over the years.
Payment Guarantee: Scribie ensures timely and reliable payments to its transcriptionists. They have a transparent payment system and offer various payment options, including PayPal, which adds to their credibility.
Positive User Experiences: Many users have reported positive experiences with Scribie. They praise the company for its professionalism, accuracy, and prompt customer support. These reviews help to dispel doubts about the legitimacy of the platform.
Online Presence and Track Record: Scribie has a well-established online presence, including a website, social media accounts, and user testimonials. Their track record of delivering transcription services to satisfied clients over the years indicates that they are a trustworthy and legitimate company.
Scribie Review: Jobs
Scribie offers various transcription job opportunities to its users. Here are several types of transcription jobs available on the platform:
a. General Transcription: This involves accurately transcribing audio or video files covering diverse topics such as interviews, podcasts, lectures, meetings, and more.
b. Business Transcription: You can transcribe recordings related to business meetings, conference calls, corporate presentations, market research, and other business-related content.
c. Legal Transcription: Scribie provides transcription tasks for legal proceedings, court hearings, depositions, legal interviews, and other legal documents, requiring precise transcription skills and knowledge of legal terminology.
d. Medical Transcription: Users can undertake transcription assignments involving medical reports, dictations, patient histories, clinical notes, and other healthcare-related audio or video files. You should be familiar about Medical terminology and healthcare practices for this job type.
e. Academic Transcription: Scribie offers transcription opportunities for educational content, including lectures, research interviews, academic conferences, and more.
How Does Scribie Work?
Scribie is an online transcription service that enables users to upload audio and video files for transcription.
The platform employs freelance transcribers who listen to the uploaded files and convert them into written text. Here's an overview of how Scribie operates:
a. File Upload: Users upload their audio or video files to the Scribie platform in various formats like MP3, WAV, OGG, MP4, etc.
b. File Allocation: Scribie assigns the uploaded files to available transcribers based on workload, language proficiency, and specific requirements.
c. Transcription Process: Assigned transcribers listen to the audio or video recordings and transcribe the content into written form, ensuring accuracy and appropriate formatting.
d. Quality Checks: Scribie maintains strict quality control procedures. Transcripts undergo multiple rounds of review and editing to meet accuracy and guideline compliance. Subpar transcripts are sent back for revisions.
e. Delivery: Once the transcription is complete and approved, users can download the final transcript from their Scribie account.
f. Payment: Scribie operates on a pay-per-audio-minute basis, with transcription rates varying depending on selected turnaround time (e.g., 36 hours, 1 week, or flexible). Users are billed based on the duration of the uploaded audio or video files.
How to Apply for Scribie Transcription Jobs?
Applying for transcription jobs at Scribie is a simple process. To get started, follow these steps:
a) Visit the Scribie website: Access the official Scribie website to reach the transcription job application portal.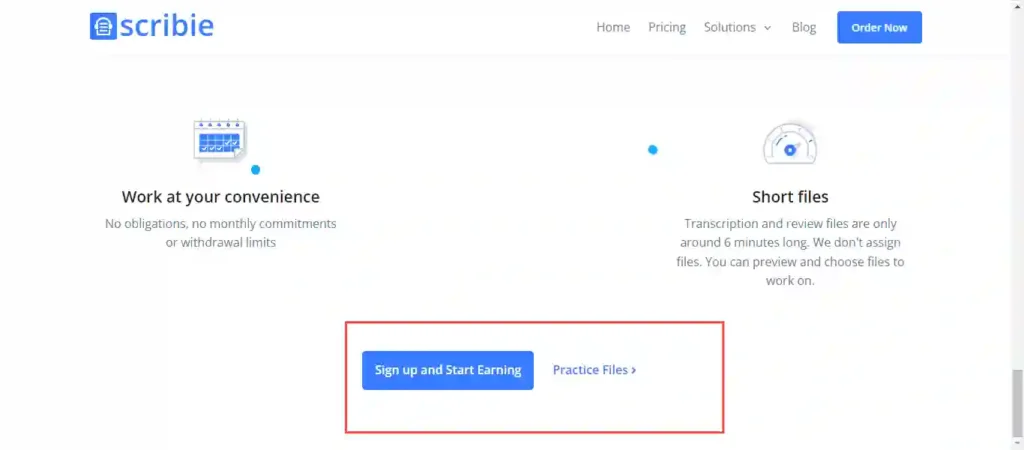 b) Create an account: Register as a new user by clicking on the "Sign Up" button. Provide your email address and set a password to create your account.
c) Complete the application form: Fill out the form, which asks for basic details about your background, skills, and availability. You need a verified PayPal account to receive payment.
d) Take the Scribie test: You must demonstrate your listening, typing, and grammar skills by completing a transcription test. This involves transcribing a short audio file provided by Scribie.
e) Submit the test: Now, send your completed transcription test for evaluation. Scribie's team will review your work to assess your transcription accuracy and adherence to guidelines.
f) Await approval: Wait for Scribie's review process. You will receive email notifications regarding the status of your application.
g) Start working: Once your test is approved, you'll receive an email confirming your acceptance as a Scribie transcriptionist. Begin taking transcription jobs and earning income through the platform.
How to Pass the Scribie Exam and Get a Job?
You must pass a test to demonstrate your proficiency and accuracy in transcription before you can apply for jobs at Scribie. Here are some useful tips to aid in your exam preparation and improve your chances of passing:
a. Familiarize Yourself with Guidelines: Before taking the exam, carefully review and understand Scribie's transcription guidelines. These guidelines outline the specific formatting, punctuation, and style requirements expected in transcriptions.
b. Practice Your Transcription Skills: Prior to the exam, practice your transcription skills. You can utilize online resources and practice materials to enhance your speed and accuracy in transcribing audio files.
c. Pay Attention to Detail: Precision is paramount in transcription work. During the exam, You must listen attentively to the audio files and accurately transcribe the spoken words, taking note of any nuances and specific instructions provided.
d. Proofread and Edit: After completing your transcription, allocate time to proofread and edit your work. Check for errors, spelling mistakes, and formatting issues. Ensure that your transcription aligns with the Scribie guidelines and meets high-quality standards.
e. Meet Quality Expectations: Scribie maintains certain quality standards that must be met to pass the exam. These standards typically involve maintaining a high accuracy rate and consistently adhering to the transcription guidelines. Make sure your transcription fulfills these requirements to enhance your likelihood of success.
f. Manage Your Time Effectively: The exam is usually time-limited, so it is crucial to manage your time wisely. You need to pace yourself throughout the exam to allow ample time for accurate transcription within the given time frame.
Related: How to become a transcriptionist and make money.
Scribie Review: Requirements
Jobs Requirements
a. Language proficiency: Scribie primarily hires transcriptionists who possess fluency in English. You should have strong command of the language for accurately transcribing audio recordings into written text.
b. Transcription skills: You should demonstrate a solid understanding of transcription guidelines and formatting. You should be capable of accurately transcribing various audio files, including different accents, dialects, and speech patterns.
c. Typing speed and accuracy: Scribie seeks individuals who can type quickly and accurately. You should be proficient typing skills enable transcriptionists to efficiently transcribe audio files and meet required turnaround times.
Equipment Requirements
a. Computer or Laptop: You need to have a computer or laptop with a stable internet connection.
b. Headphones or Earphones: Good quality headphones or earphones are important for accurate transcription. This enable clear audio comprehension, ensuring that no crucial details are missed. I recommend you noise-canceling headphones to minimize background noise interference.
c. Foot Pedal (optional): While not mandatory, a foot pedal can be a helpful tool for transcriptionists. It allows you to control audio playback speed and pause/resume without relying on keyboard shortcuts, thereby enhancing transcription efficiency.
d. Transcription Software: Scribie provides its own transcription editor on their platform. However, having transcription software installed on your computer can boost productivity. Popular options include Express Scribe, Transcribe, and oTranscribe.
Other Requirements
a. Time Availability: Scribie may expect transcriptionists to be available during specific hours or time zones. They may request a minimum weekly commitment or require availability during peak periods.
b. Confidentiality Agreement: You need to sign a confidentiality agreement to ensure the security of audio files and transcripts. This agreement would typically prevent the disclosure or sharing of confidential information.
c. Communication and Collaboration: You should have effective communication skills and the ability to collaborate with the team.
Does Scribie Hire Worldwide?
Yes, Scribie does hire worldwide. Scribie accepts applications from individuals across the globe who meet their requirements for transcription jobs.
Whether you reside in the United States, United Kingdom, Canada, Australia, or any other country, you can apply to work with Scribie as long as you meet their criteria and have the necessary skills and equipment.
Scribie Employees Reviews and Complaints
Scribie has 3.2-star ratings on Glassdoor and a 3.1-star rating on Indeed. Here's the summary of positive and negative reviews on Scribie.
Positive Reviews
Users are saying that Scribe gives a $5 bonus at the end of the month if you complete 30 transcriptions.
Many users are saying the job pressure is easy as Scribie has not had strict requirements such as typing speed and accuracy.
Good customer support.
Negative Reviews and Complaints:
Several users have expressed dissatisfaction with the low pay rates offered by Scribie, considering it to be below industry standards.
Delays in receiving payments have been a common complaint among some transcribers.
Certain users have experienced issues with the audio quality of the files provided for transcription, which can impact the accuracy and efficiency of the work.
What I Like/Dislike About Scribie
Like
a. Flexibility: Transcriptionists enjoy the flexibility to choose their own working hours and workload.
b. User-Friendly Interface: Scribie provides a user-friendly platform that simplifies navigation and enhances transcription efficiency.
c. Timely Payments: Scribie maintains a reliable payment system, ensuring transcriptionists receive their earnings on schedule.
d. Diverse Project Selection: You can explore a wide range of projects across various industries that fosters your engagement and knowledge expansion.
e. Performance Feedback: Scribie provides valuable feedback and ratings on completed projects that helps you in identifying areas for improvement.
f. Growth Opportunities: Scribie presents avenues for professional growth and advancements that allows you to take on higher-paying projects or additional responsibilities.
What I Don't Like About It
Low Pay rates.
Limited availability of job opportunities.
Earning potential might be limited.
Audio quality inconsistencies.
Scribie Reviews: Alternatives
a. GMR Transcription:
• Pay Rate: $0.7-$1.25 Per Audio Minute
• Payment Method: Paypal (Monthly) Or Bank Transfer
• Job Availability: High
• Countries Accepted: USA and Canada Only
• Requirements: Foot Pedal
GMR Transcription offers accurate and reliable transcription solutions for businesses, academic institutions, and legal firms. They have an overall rating of over 4.2 out of 5. They provide a flexible environment for transcriptionists to work from home.
Read full GMR transcription reviews here.
b. Rev:
• Pay Rate: $0.30-$1.10 per audio minute
• Payment Method: Paypal (Weekly)
• Job Availability: High
• Countries Accepted: Worldwide
• Requirements: No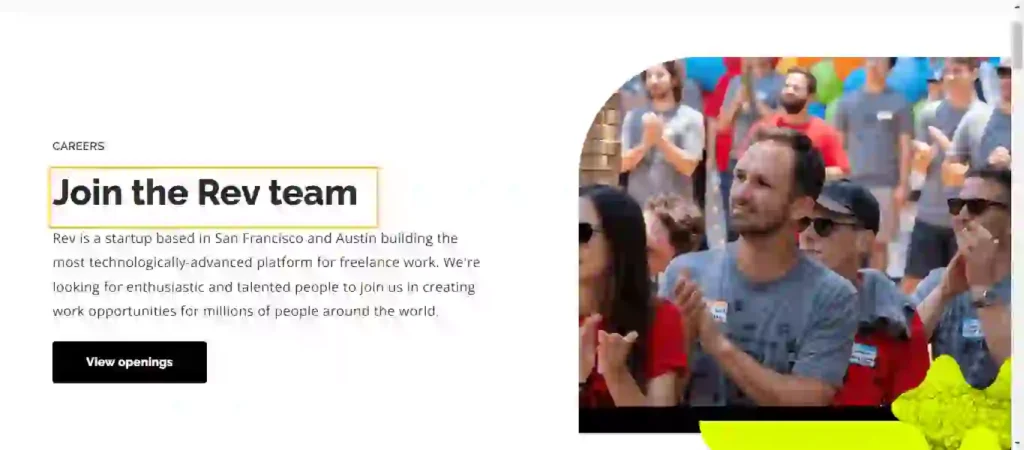 Rev is a reputable transcription service used by individuals and businesses. Rev is one of the most popular transcription industries with more than 1,00,000 customers.
Read the full Rev review here.
c. GoTranscript:
• Pay Rate: $0.6 per audio minute
• Payment Method: Paypal Or Payoneer (Weekly)
• Countries Accepted: Worldwide
GoTranscript was founded in 2005 by Peter Trebekov, a visionary entrepreneur with a passion for language services. GoTranscript offers a wide range of transcription services, including audio and video transcription, translation, and subtitling.
Read our review on GoTranscript.
d. TranscribeMe:
• Pay Rate: $15-$22 Per Audio Hour
• Payment Method: PayPal (Anytime)
• Job Availability: Medium
• Countries Accepted: Worldwide
• Requirements: No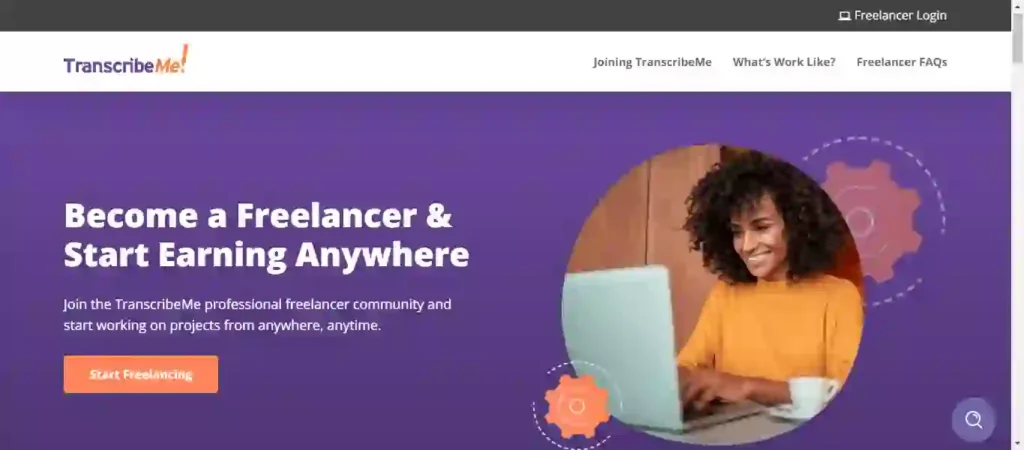 TranscribeMe combines automated speech recognition technology with human transcribers. This approach ensures fast turnaround times while maintaining accuracy. They serve individuals, businesses, and academic institutions.
Read our review on TranscribeMe .
e. CrowdSurf:
• Pay Rate: $0.03-$0.20 per audio minute with daily bonuses
• Payment Method: Paypal, WM Visa card, Bank Transfer
• Job Availability: Medium
• Countries Accepted: Worldwide
• Requirements: No
CrowdSurf specializes in transcribing short, time-stamped snippets of audio or video. They excel in tasks like closed captioning, subtitling, and video summaries. CrowdSurf offers flexible working options for transcribers.
Related: Read my top 25 best online transcription jobs here.
Scribie Review: Final Thoughts
In conclusion, after a thorough review of Scribie in 2023, I can conclude that Scribie is a legitimate platform for transcription services.
Scribie has proven itself to be a trustworthy and efficient service with its user-friendly interface, reliable transcription quality, and timely delivery,
The platform's commitment to customer satisfaction, competitive pricing (a little bit low), and attentive customer support further solidify its legitimacy.
Therefore, based on my assessment, Scribie can be recommended as a reliable transcription service provider in 2023.