Solitaire Smash is a fresh new take on the classic solitaire card game. With vibrant graphics, power-ups, and special smashes, Solitaire Smash modernizes solitaire into an exciting puzzle adventure.
But is Solitaire Smash a legit way to earn cash as you play? Or is it too good to be true?
This comprehensive Solitaire Smash review will take an in-depth look at Solitaire Smash to help you decide if it's worth downloading and competing for prizes.
Key Takeaways
Solitaire Smash is a legitimate mobile game app for iOS devices that lets users play Solitaire and compete in tournaments for real cash prizes.

The app has generally positive reviews on the App Store, with a 4.8/5 rating. Users mention it provides a fun and competitive Solitaire experience.

Players earn money primarily by competing in scheduled tournaments with entry fees ranging from a few cents to several dollars. Prize pools go up to $250.

Some concerns raised include games potentially being rigged, playing against "bots", and misleading ads about easy earnings. Many recent reviews express frustration with the lack of winnings.
Is Solitaire Smash Legit and Worth it?
Yes, Solitaire Smash is a legit app that provides real cash payouts. It has a 4.8/5 rating on the App Store based on 8,867 reviews as of August 17, 2023.
I have mentioned a few pros and cons so that you can decide whether the app is worth it or not:
Pros
Fun, competitive gameplay.
Real cash payouts.
Simple to download and start playing.
Prizes up to $250.
Positive user reviews.
Cons
Very low earning potential.
Concerns around bot play.
Misleading ads about profits.
Must pay entry fees to compete.
My Verdict
Overall, Solitaire Smash is a legitimate app that provides a fun way for solitaire enthusiasts to potentially earn small amounts of extra cash. However, it is unlikely to generate significant steady income for most users.
Approach with reasonable expectations, only risking small amounts you can afford to lose.
I don't recommend Solitaire Smash or any other gaming apps if your intention is to make significant money.
What is Solitaire Smash?
Solitaire Smash is a mobile gaming app developed for iOS devices. It allows users to play solitaire and compete in tournaments against other players for real cash prizes.
The app offers different tournament modes as well as head-to-head matches and jackpot games.
Players earn virtual coins through gameplay, which can be redeemed for power-ups. By competing and placing highly in contests, users can win cash rewards of up to $250.
The app provide an entertaining, competitive version of solitaire with financial incentives. It is free to download and play.
Download the free Solitaire Smash app from the Apple App Store onto your iOS device.
How to Make Money on Solitaire Smash?
Play Free Games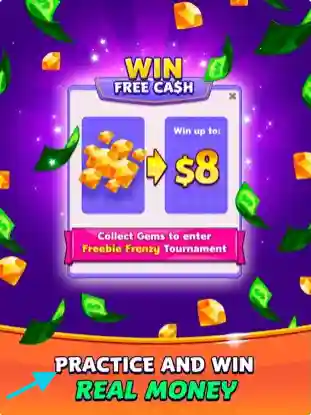 Play free practice games to build your skills before competing in paid contests. This allows you to develop strategy and learn gameplay mechanics.
Playing free games earns you small rewards which allows you to enter "freeroll" tournaments and hopefully make small money.
Compete in Paid Tournaments
Paid tournaments offer the biggest prize payouts in Solitaire Smash (up to $250 per contest).
You need to pay a small entry fee, typically few cents, to enter and compete in these tournaments.
The top-ranking players at the end of the tournament receive a cut of the overall prize pool. Entering into more paid tournaments means you'll have more chances to finish in the money across the various contests.
Win Consistently at Head-to-Head Matches
Head-to-head matches pit you against a single opponent in a best 2 out of 3 solitaire battle. The goal is to quickly complete the solitaire hands and do so faster than your opponent to win each round.
Winning 2 out of the 3 rounds results in victory in the head-to-head match and earning a cash prize.
Maximize Bonuses and Rewards
Completing daily challenges, filling bonus progress bars, watching advertisement videos, referring friends, and leveling up your profile earns you coins, cash rewards, and power-ups. These rewards can be used as an entry fee for paid tournaments.
How Much Can You Make Playing Solitaire Smash?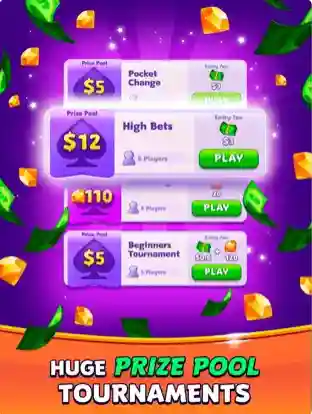 The cash prize rewards available on Solitaire Smash can add up to decent earnings over time for regular players but are unlikely to make anyone rich or replace a full-time income.
The app offers various ways to earn small amounts, including tournaments with prize pools up to $250, head-to-head match earnings, jackpot clears up to $100, and daily challenge bonuses.
Dedicated players who devote time to competing daily can realistically expect to earn an extra $50-100 per month. With consistent play, winnings could potentially reach $500+ annually.
However, average or casual players will likely only win a few dollars here and there from occasional matches and contest placements.
But, there is also a chance of losing money in paid tournaments and most likely beginners lose money.
How does Solitaire Smash work?
Solitaire Smash incorporates traditional solitaire gameplay with a competitive structure to allow players to earn cash rewards.
Users can play free games and earn rewards. Those rewards can be used to compete in various contests and matches, with top performers winning prize money.
The app offers different game modes including paid tournaments, head-to-head matches, jackpot clears, and daily challenges. Tournaments have the most significant prizes up to $250, paid out to top rankers.
Head-to-head matches players against each other to complete hands quickly, with match winners taking cash. Jackpots award money for swiftly clearing cards before a timer expires. Challenges provide bonus rewards.
Players earn virtual coins through achievements, level-ups, referring friends, etc. Coins unlock abilities and power-ups to enhance competitive play.
To withdraw winnings, users must link a PayPal account. Entry fees are required for paid contests. While real money can be earned, promotions overhype potential earnings. Most users will earn a modest supplemental income at best.
How to get started with Solitaire Smash?
Download the free Solitaire Smash app from the Apple App Store onto your iOS device.
Create an account by entering your email and password. Select a display name and avatar.
Complete your profile by providing info like location and linking your PayPal account to withdraw winnings later.
Play the tutorial to understand the game controls and rules for competitive solitaire play.
Start playing free practice games to build your skills before paid contests.
Enter tournaments and head-to-head matches to start competing for real money. You'll need to pay small entry fees for paid contests.
Cash out your winnings via PayPal once you exceed the minimum account balance threshold.
Who can play Solitaire Smash?
Solitaire Smash is available as a free downloadable app for iOS devices. Players must meet the following criteria to compete:
18 years or older – The game has an age restriction due to cash contests.
Cash tournaments are not available in a few states of the US such as Arizona, Arkansas, Connecticut, Delaware, Indiana, Iowa, Louisiana, Maine, Montana, South Carolina, South Dakota, and Tennessee.
Owns an iPhone/iPad – Only compatible with iOS, not Android.
Links PayPal – Needed to withdraw any winnings earned.
Who is Solitaire Smash Good For?
Alright, let's cut to the chase here – Solitaire Smash is not going to be everyone's cup of tea.
Solitaire Smash is suitable for people who:
❏ Love solitaire and are already decently good at it. You'll need solid fundamentals to compete. Total beginners will likely get smoked.
❏ Thrive on competition and playing for real stakes. The head-to-head battles and tournaments add serious pressure not found in regular solitaire.
❏ Can afford to risk a little money. You might lose a few bucks in cash contests.
❏ Want a new way to profit from their card skills. Even modest earnings can be satisfying.
Solitaire Smash Ratings and Reviews
Solitaire Smash has a 4.8/5 rating with over 8,942 reviews on App Store. This shows that Solitaire Smash is definitely not a scam. I've highlighted a few positive and negative reviews herewith:
Solitaire Smash Alternatives
MistPlay
This Android app rewards you for playing new games with gift cards and cash. You earn points by trying featured games, leveling up, and completing achievements. A legit way to play mobile games while earning. No investment is required.
Read my complete MistPlay review.
Bingo Cash
Play virtual bingo within this app for a chance at real cash prizes. To play for money, you purchase virtual bingo cards with real money which can lead to losses. But free games are available to practice first.
Read my full review on Bingo Cash.
Solitaire Cash
A popular solitaire app similar to Solitaire Smash but focused on Klondike solitaire. Compete in cash tournaments on iOS for rewards. Also includes free play options. Provides fun, competitive Klondike gameplay with cash incentives.
Read my full Solitaire Cash review.
Cash Giraffe
Earn gift cards and PayPal cash by playing free games and taking surveys. No money is required to earn. Offers additional earning options like referrals and videos. Legit way to play and earn on mobile.
Solitaire Clash
Available on iOS, this app offers head-to-head Klondike solitaire matches with real money prizes. Pay small entry fees to compete in fast-paced card gameplay versus opponents. Fun for solitaire fans, but risks actual money loss.
For more alternative game apps, read:
Final Thoughts
Overall, Solitaire Smash presents a fun and legitimate way for avid solitaire players to potentially earn few bucks by competing in tournaments and matches.
However, earnings are unlikely lucrative for most users. Approach with reasonable expectations focus on the enjoyment of gameplay first, and only risk money you can comfortably afford to lose.
But, keep in mind that there is also a high chance of losing money. So, I don't recommend Solitaire Smash for beginners.