In today's digital age, the demand for transcription services has skyrocketed due to the individuals and businesses seeking efficient and accurate transcription solutions.
One prominent player in this industry is TranscribeMe. However, as with any online platform, questions regarding its legitimacy and reliability arise.
In this comprehensive TranscribeMe Review 2023, I'll dive into the nitty-gritty details to determine whether TranscribeMe is a legitimate platform or just another internet scam.
I'll explore TranscribeMe's payout structure, job prospects, the application process, requirements, user reviews, and alternative options, leaving you with an informed perspective on whether TranscribeMe is the right fit for you.
TranscribeMe Review Summary
• Pay Rate: $15-$22 Per Audio Hour
• Payment Method: PayPal (Weekly)
• Job Availability: Medium
• Countries Accepted: Worldwide
• Requirements: No
• Is TranscribeMe Legit?: Yes, TranscribeMe is a legitimate company. It has rating of 3.7 on GlassDoor and has reputable client base such as Oracle, Harvard University, etc.
Let's dive into complete TranscribeMe review.
What is TranscribeMe?
TranscribeMe is a legitimate transcription service that has been operating since 2011.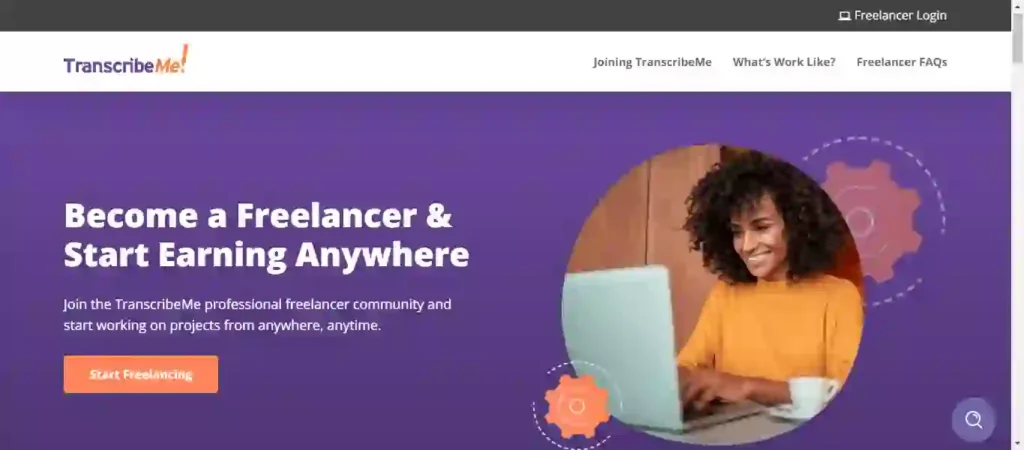 It offers reliable transcription solutions to individuals and businesses by using a combination of human expertise and advanced technology.
The platform accommodates various transcription requirements, including academic research, legal documentation, and business meetings.
How much does TranscribeMe pay?
TranscribeMe provides a competitive pay structure. The actual earnings are influenced by factors such as the complexity of the audio files, turnaround time, and the individual's transcription speed.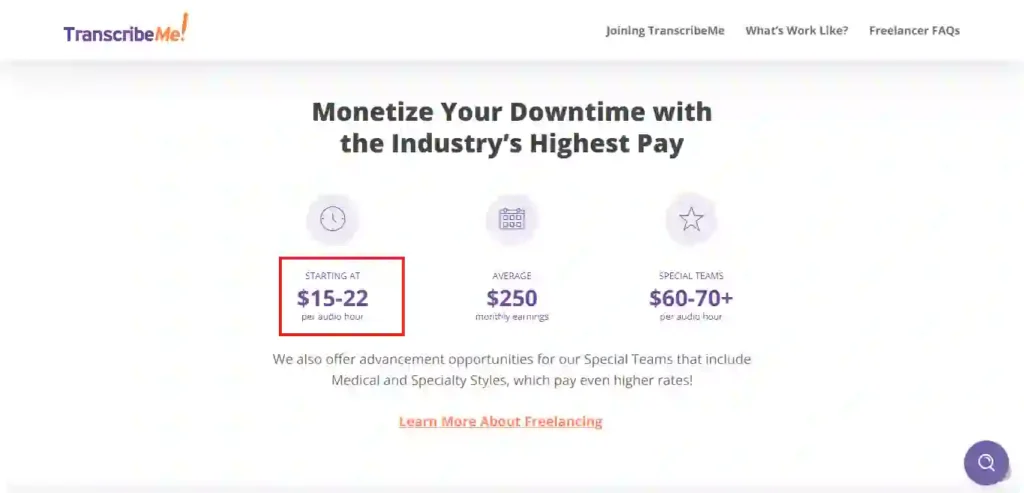 On average, TranscribeMe pays $15 to $22 per audio hour, equating to around $0.25 to $0.36 per audio minute. (Note audio hour is the duration of recordings that needs to be transcribed).
A transcriptionist working part-time on TranscribeMe is making around $250 a month. But the top performers are making over $2,000 a month.
However, it's essential to recognize that these rates can fluctuate based on individual performance and project requirements.
TranscribeMe pays you via PayPal weekly.
Is TranscribeMe a Scam?
No. TranscribeMe is not a scam company. Here's why:
a. Authenticity and Reputation: TranscribeMe is a recognized and reputable transcription company that has been operating legitimately since 2011. It has built a strong presence in the industry and serves clients globally.
b. Fair Compensation: A key aspect to consider when evaluating a potential scam is the payment structure. TranscribeMe ensures transparent and competitive rates for its transcribers. Payments are made weekly via PayPal, which adds credibility to the platform.
c. Positive User Feedback: TranscribeMe has garnered predominantly positive reviews from transcribers who appreciate the platform's timely payments, clear guidelines, and supportive community. It has an overall rating of 3.7 on GlassDoor.
d. Streamlined Application Process: Scam companies often employ convoluted application processes or demand upfront fees. In contrast, TranscribeMe maintains a straightforward application procedure that is free of charge. They provide clear instructions on their website for aspiring transcriptionists.
e. Reputable Client Base: TranscribeMe boasts a diverse clientele, including reputable organizations and prominent companies such as Oracle, Harvard University, etc. This signifies their established standing in the industry and bolsters their legitimacy.
f. Compliance with Legal Requirements: Operating within legal frameworks is a key differentiator between scams and legitimate businesses. TranscribeMe complies with all relevant laws and regulations, ensuring their operations are above board.
TranscribeMe Reviews: Jobs
TranscribeMe offers a variety of transcription jobs for individuals interested in working as transcriptionists.
Here are some types of transcription jobs available at TranscribeMe:
General Transcription:
This involves transcribing various types of content such as interviews, meetings, podcasts, lectures, and more. General transcription jobs require excellent listening skills and the ability to accurately transcribe spoken words into written form.
Medical Transcription:
TranscribeMe also offers jobs in medical transcription. This type of transcription involves transcribing audio recordings related to the medical and healthcare fields. You should have familiarity with medical terminology and an understanding of medical procedures and concepts.
Legal Transcription:
TranscribeMe provides opportunities for legal transcription jobs. Legal transcriptionists transcribe legal proceedings, including court hearings, depositions, legal documents, and other audio content related to the legal field.
Foreign Language Transcription:
TranscribeMe also hires transcriptionists who can transcribe the audio in languages other than English. If you are proficient in a foreign language and have strong transcription skills, there may be opportunities for you to work on transcription jobs in languages other than English.
How Does TranscribeMe Work?
TranscribeMe is an online platform that facilitates the transcription of audio and video files into written text. It offers employment opportunities to transcribers while providing transcription services to clients. Here's an overview of how TranscribeMe operates:
a. Task Assignment: Files from clients are divided into smaller segments called microtasks, which are then assigned to individual transcribers.
b. Guidelines and Tools: Transcribers receive comprehensive guidelines and access to tools to assist them in accurately completing their tasks. These guidelines cover formatting, timestamps, speaker identification, and specific transcription requirements.
c.Transcription Process: Transcribers listen to the audio segments and transcribe the spoken content into written text using transcription software or the TranscribeMe web interface.
d. Quality Control: TranscribeMe places great emphasis on quality control. Completed transcriptions undergo a thorough review process to ensure accuracy, adherence to guidelines, and overall quality. This step ensures the delivery of reliable transcripts to clients.
e. Delivery to Clients: Once the transcriptions pass the quality control stage, they are securely delivered to clients while maintaining the confidentiality of their data.
How to Apply for TranscribeMe Transcription Jobs?
The process of applying for transcription jobs at TranscribeMe is simple and can be completed through their official website. Follow these steps:
a. Access the TranscribeMe website: Go to transcribeme.com, the official website of TranscribeMe.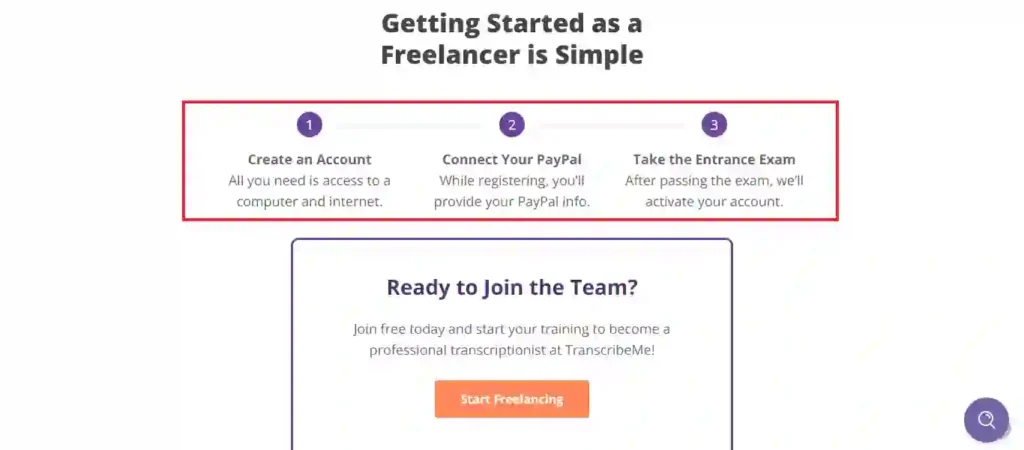 b. Register an account: Click on the "Start Freelancing" button to initiate the registration process. Fill in the necessary details on the registration page, such as your name, email address, and preferred password.
c. Complete the application form: Provide the required personal information and select your language proficiency and transcription skills during the application process. Also, connect your PayPal account.
d. Take the entrance exam: As part of the application, you will be required to demonstrate your transcription abilities by completing an entrance exam. This exam usually involves transcribing a short audio or video file based on TranscribeMe's guidelines and using their provided tools.
e. Submit your exam: After finishing the transcription exam, submit your work for evaluation by TranscribeMe. They will assess your transcription skills based on your submission.
f. Await the results: TranscribeMe will notify you of your exam results via email. If you pass the exam, you will become eligible to work as a transcriptionist with TranscribeMe.
h. Onboarding and training: Upon acceptance, TranscribeMe may provide additional training or onboarding materials to familiarize you with their platform, tools, and specific client requirements.
How to Pass the TranscribeMe Exam and Get a Job?
Here are some steps to enhance your chances of passing the TranscribeMe exam and obtaining a transcriptionist position:
a. Familiarize yourself with guidelines: You must thoroughly study and comprehend TranscribeMe's guidelines before attempting the exam. These guidelines provide instructions on formatting, punctuation, and other transcription-related specifications.
b. Practice transcription: Practice transcribing different audio files to enhance your typing speed, accuracy, and ability to handle various accents and audio quality, aligning with the typical files provided by TranscribeMe.
c. Utilize TranscribeMe resources: Take advantage of the training materials and resources available on TranscribeMe's website. These resources include style guides and sample transcripts, offering insights into their expectations.
d. Approach the exam seriously: Dedicate your full attention to the exam. Pay meticulous attention to details, accuracy, and adherence to guidelines. Ensure your transcript is error-free and formatted correctly.
e. Time management: Effectively manage your time during the exam, considering the time frame provided by TranscribeMe. Plan accordingly to complete the required tasks within the allotted time.
f. Review and proofread: Before submitting your exam, carefully review your transcription. Check for spelling, grammar, and formatting errors. Proofread multiple times to guarantee utmost accuracy.
g. Submission process: Follow the provided instructions to submit your completed exam through TranscribeMe's designated submission process.
TranscribeMe Review: Requirements
Jobs Requirements
a. Proficient English language skills: You should have a firm grasp of the English language, including grammar, punctuation, and spelling. This is crucial for accurately transcribing audio or video recordings.
b. Typing speed and accuracy: You should possess efficient typing skills with a high level of accuracy. Quick and precise typing ensures timely and error-free transcriptions.
c. Attention to detail: Transcription work demands meticulous attention to detail. You must capture every word, phrase, and sound accurately from the audio or video recordings.
Equipment Requirements
a. Computer: A reliable desktop or laptop computer with a stable internet connection is necessary for performing transcription tasks.
b. Headset: TranscribeMe recommends a noise-canceling headset with a built-in microphone for clear audio playback and accurate transcription. This helps minimize background noise and ensures that you can hear the audio clearly while transcribing.
c. Foot Pedal (optional): While not mandatory, a foot pedal can significantly improve transcription efficiency. It allows you to control audio playback with your foot, freeing up your hands to type without frequently reaching for the keyboard or mouse.
d. Transcription Software: TranscribeMe provides its own specialized transcription software, which you'll need to use. This software is designed to assist transcriptionists and streamline the workflow.
Other Requirements
Specialized Knowledge: Certain projects may demand specialized knowledge or expertise in a particular field. For instance, legal or medical transcription might require familiarity with legal or medical terminology.
Time Management and Deadline Adherence: TranscribeMe places importance on meeting deadlines and effectively managing time. You are expected to deliver accurate transcripts within specified timeframes.
Confidentiality and Non-Disclosure Agreements: Given the sensitive nature of some transcription projects, TranscribeMe may request you to sign confidentiality or non-disclosure agreements to safeguard client information.
Does TranscribeMe Hire Worldwide?
Yes, TranscribeMe hires transcriptionists from around the world. They accept applications from individuals located in various countries, allowing for a global workforce.
This global hiring approach provides opportunities for people from different regions to work remotely as transcriptionists for TranscribeMe, contributing to the company's diverse pool of talent.
It also allows TranscribeMe to tap into a larger talent pool and offer transcription services in multiple languages.
TranscribeMe Reviews and Complaints
TranscribeMe has 3.7 ratings out of 5 on Glassdoor and same on Indeed. Here's the summary of the reviews and complaints.
Positive Reviews: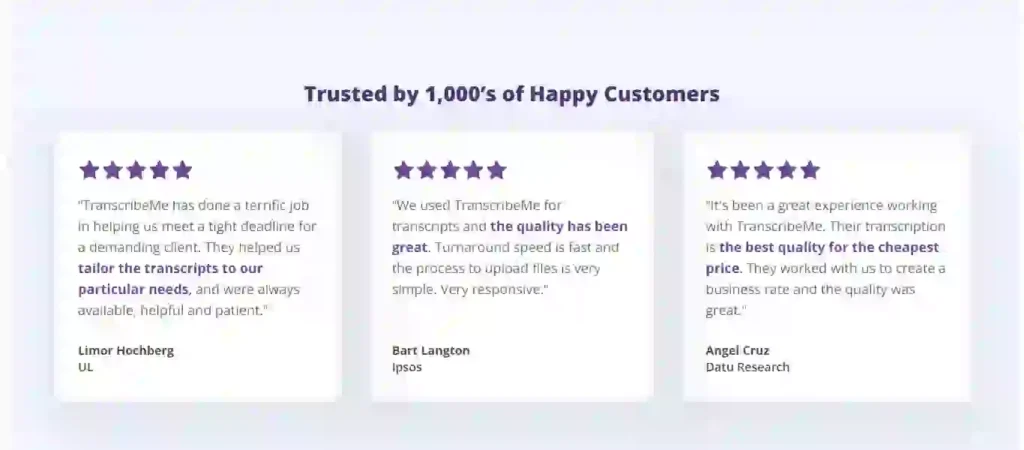 Accurate Transcriptions: TranscribeMe receives praise for consistently providing precise and reliable transcriptions. The combination of human transcribers and speech recognition technology ensures high-quality results.
Flexibility: Users appreciate the flexibility that TranscribeMe offers chance to work remotely from any location with an internet connection. This flexibility makes it a suitable option for individuals seeking part-time or remote transcription opportunities.
Timely Payments: Users report receiving their earnings on time, enhancing the platform's reliability and trustworthiness.
Supportive Community: Reviewers highlight the helpfulness and responsiveness of both the support team and fellow transcribers in addressing questions and providing assistance.
Negative Reviews:
Low Pay Rates: Many reviewers express dissatisfaction with the pay rates offered by TranscribeMe, considering them relatively low compared to other transcription platforms.
Limited Availability of Jobs: A few users report a scarcity of available jobs on TranscribeMe, particularly during specific time periods or for certain language pairs.
Strict Quality Control: While accuracy is valued, some reviewers find TranscribeMe's quality control measures overly stringent. The strict grading system and feedback process can present challenges for new transcribers in meeting the platform's requirements and maintaining a high accuracy rating.
Technical Issues: A small number of users have encountered technical difficulties while using the TranscribeMe platform. These include interface problems, occasional crashes, or audio playback issues, which can adversely affect the user experience.
What I Like/Dislike About TranscribeMe
Like
User-Friendly Platform: The platform is easy to navigate, ensuring a smooth user experience.
Flexible Working Hours: Transcribers enjoy the freedom to choose assignments based on their availability.
Varied Transcription Projects: The platform offers diverse projects across different industries and topics.
Clear Guidelines and Feedback: Transcribers receive detailed instructions and helpful feedback.
Supportive Community: The platform fosters a supportive community for transcribers to connect and collaborate.
Regular Payment: TranscribeMe ensures prompt and reliable payment for completed work.
Skill Development Opportunity: Transcribers can improve their transcription skills through consistent workflow and exposure to different projects.
Dislike
Limited job availability at times.
Lower pay rates for beginners.
Strict formatting guidelines for transcriptions.
Lack of direct communication with clients.
TranscribeMe Alternatives
GMR Transcription:
• Pay Rate: $0.7-$1.25 Per Audio Minute
• Payment Method: Paypal (Monthly) Or Bank Transfer
• Job Availability: High
• Countries Accepted: USA and Canada Only
• Requirements: Foot Pedal
GMR Transcription has established itself as a reliable transcription service since its inception in 2004. They provide accurate and affordable transcription solutions for various industries, including legal, academic, medical, and business.
Read out complete GMR Transcription review.
Rev:
• Pay Rate: $0.30-$1.10 per audio minute
• Payment Method: Paypal (Weekly)
• Job Availability: High
• Countries Accepted: Worldwide
• Requirements: No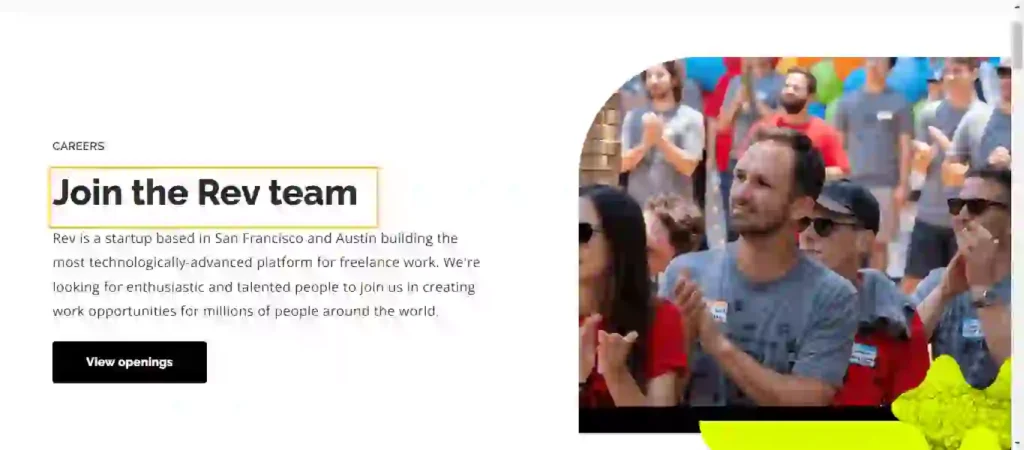 Rev has gained popularity as a transcription and captioning service since its founding in 2010. They pride themselves on their large network of skilled freelancers who deliver accurate transcriptions and captions promptly.
Read out complete Rev review.
Scribie:
• Pay Rate: $10 per audio hour
• Payment Method: Paypal
• Job Availability: Medium
• Countries Accepted: Worldwide
• Requirements: No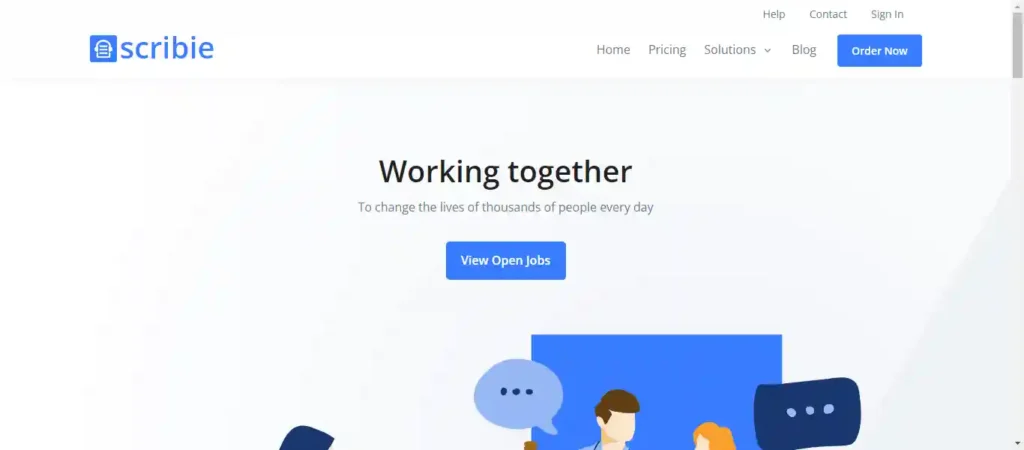 Scribie has been providing transcription services since its establishment in 2008. They specialize in delivering high-quality transcripts at affordable prices.
Scribie offers a unique "4-step process" where audio files go through multiple stages of transcription, review, proofreading, and finalization to ensure accuracy.
Read out complete Scribie review.
GoTranscript:
• Pay Rate: $0.6 per audio minute
• Payment Method: Paypal Or Payoneer (Weekly)
• Job Availability: Medium
• Countries Accepted: Worldwide
• Requirements: No
GoTranscript, founded in 2005, is a well-known transcription service that offers accurate and reliable transcription solutions. They provide transcription services for various industries, including business, legal, academic, and medical.
Read our complete GoTranscript review.
SpeechPad:
• Pay Rate: $0.3-$1.00 per audio minute
• Payment Method: Paypal (Every Tuesday and Friday)
• Job Availability: Medium
• Countries Accepted: Worldwide
• Requirements: No
SpeechPad, established in 2008, is a transcription service known for its commitment to accuracy and customer satisfaction. They offer transcription solutions for a wide range of industries and specialize in delivering high-quality results.
Read about 25 best transcription jobs for beginners here.
TranscribeMe Review: Final Thoughts
In conclusion, after thoroughly reviewing TranscribeMe, it is obvious that the platform is a legitimate opportunity for individuals looking to earn money through transcription work.
The company offers a user-friendly platform, competitive pay rates, and a wide range of job opportunities. TranscribeMe's stringent hiring process ensures that only qualified and dedicated transcribers are accepted, maintaining the quality of their services.
While there may be some minor drawbacks, such as the initial exam requirement and limited availability of jobs during certain periods, my overall experience with TranscribeMe is positive.
The flexibility of working from home and the potential for steady income make it an attractive option for transcription enthusiasts.
For those seeking alternatives, some similar platforms like Rev and GoTranscript can be explored.
However, TranscribeMe remains a strong contender in the transcription industry that offers a reputable and trustworthy platform for individuals looking to monetize their transcription skills.