If you've been hearing about Bingo Cash, wondering if it's the real deal or just another online gimmick, you've come to the right place!
I've seen those enticing ads promising quick cash while having fun playing bingo online. But let's cut to the chase – is Bingo Cash legit or scam?
In this Bingo Cash reviews, I have covered about my experiences, user reviews, pros & cons and many more about Bingo Cash so that you can easily figure out whether to try or not.
What Is Bingo Cash?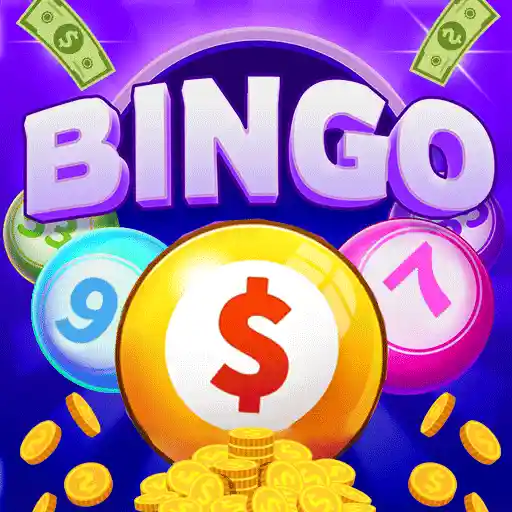 Bingo Cash is an online platform that allows you to make money by playing games from the comfort of your own home.
It provides a variety of virtual bingo games tailored for players of various skill levels. You can compete for cash rewards by joining several bingo rooms.
Bingo Cash is available on Google Play (for Android) and the Apple App Store (for IOS). It is only available in the United States and a few other countries.
Bingo Cash has a 4.7-star rating on the app store (based on 89,230 reviews) and a 4.4-star rating on the play store (based on 9,147 votes).
Is Bingo Cash Legit?
Yes, Bingo Cash is a legitimate platform for earning money online. Users can play online bingo games and earn cash rewards.
I had no issue downloading and using the app. I play some free games and everything seems legit. But it took a long time to make a few bucks.
Since I didn't reach their minimum payout threshold of $5, I couldn't withdraw money. But, I could obviously if I had earned $5.
I also evaluated user reviews and feedback to assess its legitimacy. Many users have successfully received their earnings from Bingo Cash, although there have been occasional delays and difficulties in reaching the minimum payout.
Overall, Bingo Cash is a legitimate platform to make a few bucks while playing games. But you can question if it's worth it or not.
How Does Bingo Cash Work?
Bingo Cash operates as an online platform where users can play bingo games and potentially earn money.
Here are a few easy steps on how bingo cash works:
Download the app:
You must download the mobile app to get started. Both the app store and the play store have the app. Registration for the game is free.
After signing up, you can browse the bingo games offered and select the ones you want to play.
Play Practice Games:
When you initially open the app, a brief tutorial will guide you through the game's unique form of Bingo and the numerous game kinds available. You can also play practice matches to familiarize yourself with the gameplay.
Play Cash Tournaments: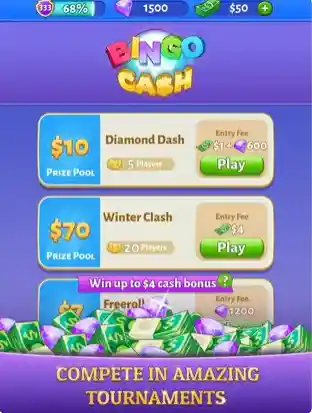 You can participate in cash tournaments after you feel comfortable with the game. These tournaments are head-to-head matches against other players.
Each player pays an entry fee to participate, and the winner receives their entry fee back along with a share of the total prize pool.
Here are some things you should know while playing cash tournaments:
Match Types:
In cash tournaments, you'll compete against players of similar skill levels. The top three scores in each match win a payout, which varies based on the tournament type and entry fees.
Entry fees for cash tournaments can start as low as $1 per game, and there are also larger prize pools with higher entry fees.
Gameplay and Scoring:
The cash tournaments are fast-paced, lasting only two minutes each. The goal is to score as many points as possible by quickly tapping the correct squares on the Bingo card. Accuracy and speed are crucial to winning.
Your final score is determined based on various factors, such as how quickly you tap the correct numbers (daubs), the number of Bingos you achieve (horizontal, vertical, diagonal, or four corners), multi-Bingos (getting two or more Bingos at once), and bonus points earned from activating boosters.
Boosters:
Boosters are power-ups that can enhance your gameplay and help increase your final score. There are four types of boosters available:
Bonus Time: This gives you ten extra seconds of gameplay, allowing you to earn more points.
Double Score: Doubles the points you earn for the next ten seconds.
Pick-A-Ball: Lets you choose the next ball to be called, giving you some strategic advantage.
Wild Daub: Allows you to choose any square of your choice, helping you complete Bingos more effectively.
Earn Bonus Cash:
Bingo Cash offers daily check-ins and a referral bonus to earn extra money. Daily check-ins can reward you with gems and a small amount of cash for logging into the app regularly.
If you invite friends to join Bingo Cash, you'll receive $1 for each friend who signs up.
However, there's a limit to how many friends you can invite, and the bonuses are not substantial.
Redeem your cash:
If you win a cash tournament, your winnings are deposited into your account. You can cash out through PayPal or back to the account you used for funding.
There's a $5 minimum withdrawal amount, and a $1 payment processing fee applies. Withdrawals typically take 2-14 days.
How Much Money Can You Earn from Bingo Cash?
Looking to make a quick buck on Bingo Cash? Well, don't expect to strike it rich. While there are cash tournaments with entry fees as low as $1 and prizes of $7, the actual winnings might disappoint you.
After the app takes its cut, the winner typically pockets around $2.90, leaving you with just $1.90 in profit.
Sure, you can try higher-stakes tournaments with payouts of $50 or even $100, but the risk increases with the entry fees. For instance, an $11 entry might promise a $61 prize, but the winner only gets $24 in the end.
Bingo Cash does offer free play using gems, but earning enough gems for cash tournaments takes time and effort.
In reality, Bingo Cash isn't a get-rich-quick scheme. At best, you might earn enough for a meal or two. It's more of a fun way to engage with your hobby rather than a serious money-making opportunity.
Bingo Cash Reviews
Bingo Cash has 4.7-star ratings on the app store based on 89,962 reviews which is impressive. Similarly, it has a 4.3-star rating on the play store based on 9150 votes. This rating says that bingo cash is legit.
Here are some positive and negative reviews of Bingo Cash.
Positive Reviews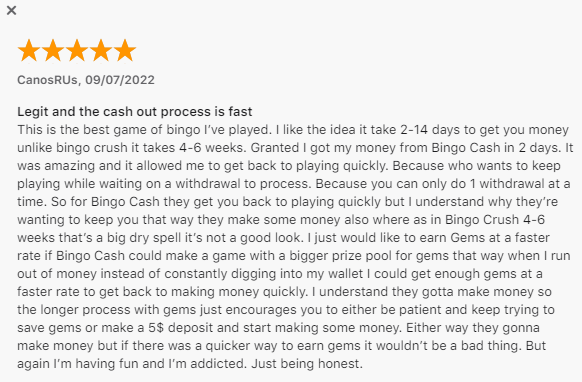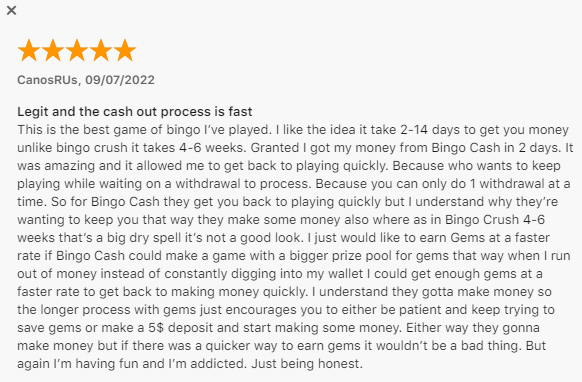 Negative Reviews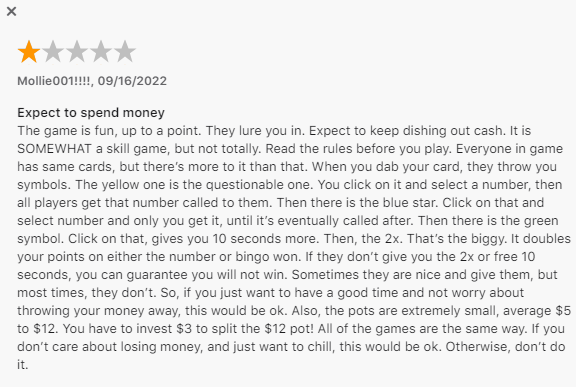 Bingo Cash Pros and Cons
Pros of Bingo Cash:
Convenient Entertainment
Cash Prize Opportunities
Affordable Entry Fees
Engaging Community
Cons of Bingo Cash:
Limited Earning Potential
Risk of Loss
Time-Consuming Gem Accumulation
Unpredictable Payouts
Addictive Nature
Is Bingo Cash Worth It?
Bingo Cash is not worth it if you're looking to make serious money.
Sure, you can play cash tournaments with entry fees as low as $1, but the payouts are often not that impressive. Winning a $7 prize pool might only get you around $2.90 after the app's cut – not exactly a huge windfall.
Yes, you can go for higher-stakes tournaments with bigger prizes, but remember, the higher the entry fee, the riskier it gets. You could end up spending more than you earn.
Now, Bingo Cash does offer free play using gems but don't expect to earn enough quickly. Playing free games earns you very less money.
So, what's the bottom line? Bingo Cash is more about having fun with your hobby than making substantial money. If you're hoping to make side income, you might want to look elsewhere.
Bingo Cash Alternatives
Swagbucks: Earn money for completing simple online tasks like surveys, videos, and shopping. It's an easy-to-use platform with diverse earning options.
Branded Surveys: Share your opinions through surveys and get rewarded with cash or gift cards. They have a solid reputation for providing regular survey opportunities.
InboxDollars: Make money by reading emails, taking surveys, and trying out new offers. It's a popular choice with a straightforward interface.
MistPlay: If you enjoy gaming, MistPlay rewards you for playing mobile games. The more you play, the more points you can redeem for gift cards.
Bubble Cash: This app pays you for playing games, completing offers, and taking surveys. It's a fun way to earn while doing things you enjoy.
Final Thoughts: Is Bingo Cash Legit?
Well, after digging deep and analyzing user experiences, I found that Bingo Cash is legitimate. Many users have reported receiving their payouts without any issues.
In a nutshell, Bingo Cash is legit, but it's not a get-rich-quick scheme. You can have some fun, and if you're lucky, you might earn a little extra cash.
But don't expect to make lucrative money. Play responsibly and for enjoyment rather than solely for the money.
I recommend you to read this post if you really want to make money online as a beginners.