In the expanding gig economy, online transcription jobs have gained significant popularity as a flexible and accessible source of income.
Among the various platforms available, GoTranscript has emerged as a prominent player.
In this GoTranscript review for 2023, we dive deep into the platform's workings, payment structure, job requirements, and global reach to help you make an informed decision.
Whether you're an transcriber or seeking an alternative income stream, stay to the end as we uncover the truth about GoTranscript.
GoTranscript Review Summary:
• Pay Rate: $0.6 per audio minute
• Payment Method: Paypal Or Payoneer (Weekly)
• Job Availability: Medium
• Countries Accepted: Worldwide
• Requirements: Basic typing skill
• Is GoTranscript Legit?: Yes, GoTranscript is legitimate company. It has 4.2 rating on GlassDoor.
What is GoTranscript?
GoTranscript is an online transcription service that provides accurate and reliable transcription solutions to individuals and businesses.
It was founded in 2005 by Peter Trebekov, a visionary entrepreneur with a passion for language services. GoTranscript offers a wide range of transcription services, including audio and video transcription, translation, and subtitling.
The company's commitment to quality, affordability, and customer satisfaction has established its reputation as a leading player in the transcription industry.
Is GoTranscript a Scam?
No. GoTranscript is not a scam company. Here's why:
Established Reputation: GoTranscript has gained a solid reputation since 2005 and has a large customer base, including individuals and businesses. Reputed companies like World Relief, Operation Smile, Gen.video are some of the clients of GoTranscript.
Positive Reviews: Numerous users have provided positive feedback about their experiences with GoTranscript. GoTranscript has a 4.2 rating on GlassDoor.
Transparent Operations: GoTranscript maintains transparency in its operations by providing clear guidelines, terms of service, and payment policies, which are easily accessible on its website.
Prompt Payment: GoTranscript ensures timely and accurate payments to its transcriptionists.
GoTranscript Reviews: Jobs
GoTranscript offers transcription jobs to individuals who have excellent listening and typing skills.
As a transcriptionist for GoTranscript, your main responsibility will be to listen to audio files and accurately transcribe them into written format. The company provides various types of jobs, including:
a) General Transcription: This involves transcribing a wide range of audio content, such as interviews, meetings, podcasts, and more.
b) Academic Transcription: This involves transcribing academic lectures, research interviews, conference recordings, and other educational materials.
c) Business Transcription: This involves transcribing business-related content, such as meetings, conferences, market research, and more.
d) Video Transcription: This involves transcribing video content, such as YouTube videos, webinars, video interviews, and more.
d) Legal Transcription: This involves transcribing legal documents, court proceedings, depositions, and other legal audio recordings.
e) Medical Transcription: This involves transcribing medical dictations, patient records, medical reports, and other healthcare-related materials.
Besides transcription jobs, it also offers caption, subtitles, and translation jobs.
How much does GoTranscript pay?
GoTranscript offers competitive pay rates based on the length and complexity of transcription tasks. The exact rates vary depending on factors such as the language, content type, and turnaround time.
Transcriptionists are paid $0.60 per audio minute on average. The average monthly earning of a transcriptionist is $150 per month. However, top earners are making over $1200 per month.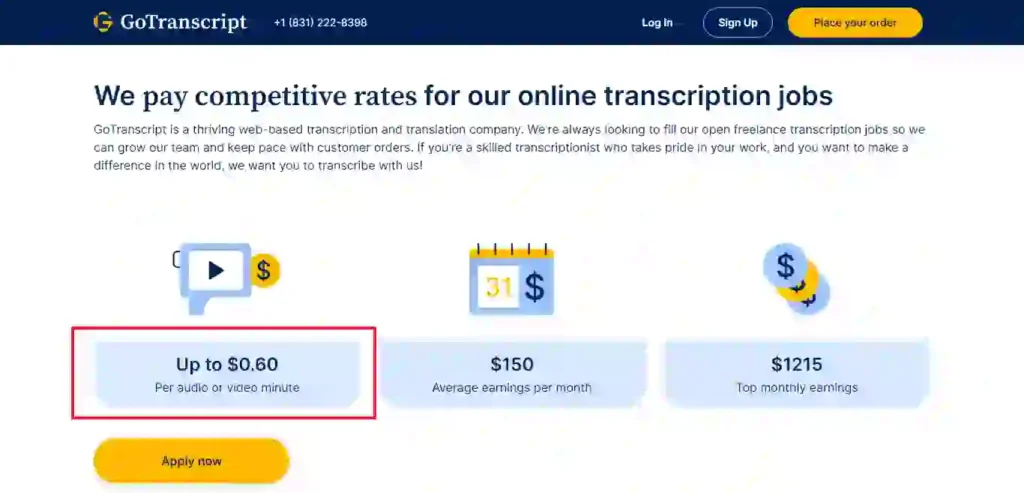 Payments are processed weekly through PayPal.
How Does GoTranscript Work?
GoTranscript is an online transcription service that facilitates the conversion of audio and video files into written text. The process can be outlined as follows:
a. File Submission: Clients upload their audio or video files, which can be in various formats like MP3, WAV, MP4, or AVI, to the GoTranscript platform.
b. Transcriber Assignment: GoTranscript assigns these files to qualified transcribers based on their expertise and availability. Transcribers are carefully selected from a pool of tested and vetted individuals.
c. Transcription Process: The assigned transcribers listen to the audio or watch the video and accurately transcribe the content into written text. They diligently capture dialogue, narration, and any relevant sounds or background noises.
d. Quality Assurance: Transcribers review and proofread their work to ensure accuracy and clarity. They correct any errors and adhere to GoTranscript's quality standards.
e. Client Delivery: Upon completion, GoTranscript delivers the final transcribed document to the clients. The delivery method can be chosen as per the client's preference, either through the GoTranscript platform or via email.
GoTranscript also provides additional services like timestamping, verbatim transcription, and translation, which clients can request for an extra fee. These services cater to specific client needs.
How to Apply For GoTranscript Transcription Job?
To apply for a transcription job at GoTranscript, you can follow these steps:
i. Visit the official GoTranscript website and click on work section on footer.
ii. Click on apply now option and choose to become English or Spanish transcriptionist.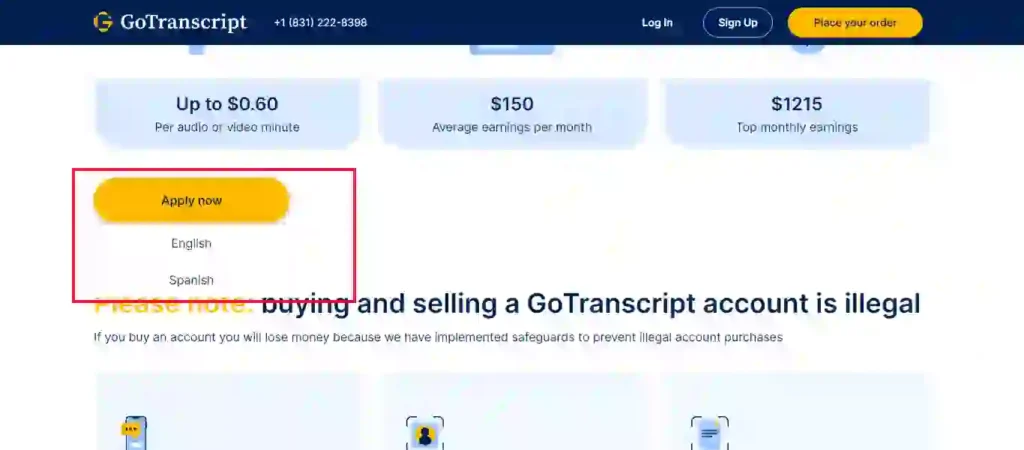 iii. Create an account by providing your email address, creating a password, and agreeing to the terms and conditions.
iii. Complete your profile by filling in the necessary details, such as your name, contact information, language proficiency, and relevant experience.
iv. Take the test and pass the test exam, assessing your ability to accurately transcribe audio or video files.
v. Submit your application and await review by GoTranscript.
vi. Expect an email notification regarding the status of your application. If approved, proceed to the next steps; otherwise, consider reapplying or improving your skills.
If successful, you may be offered a transcription job. If not, you may have the opportunity to retake the test or receive feedback for skill improvement.
How to Pass the GoTranscript Exam and Get a Job?
When applying for a transcription job at GoTranscript, passing an exam is a crucial step to showcase your transcription skills and secure employment.
The exam evaluates your accuracy, attention to detail, and ability to follow instructions. Here are important points to consider:
a. Guidelines and Style Guide: You should thoroughly read and adhere to the guidelines and style guide provided by GoTranscript. These documents outline formatting, punctuation, and specific transcription conventions.
b. Accuracy and Attention to Detail: GoTranscript values precise transcriptions. So, you must listen carefully to the audio or video, ensuring accurate conversion into written text with timestamps, speaker identification, and other relevant details.
c. Time Management: You must allocate your time wisely, focusing on both speed and accuracy within the specified timeframe.
d. Practice and Preparation: You should practice repeatedly to enhance your transcription skills. You should be familiarize yourself with common techniques, improve typing speed, and ensure comfort with audio comprehension and conversion.
e. Review and Proofreading: After transcription, allocate time for review and proofreading. You must thoroughly check for errors in spelling, grammar, punctuation, formatting, and adherence to requirements.
GoTranscript Review: Requirements
Jobs Requirements:
Proficiency in the language: You must have strong command of the language you'll be transcribing in is essential.
Attention to detail: You require careful listening and attention to detail for accurate transcription
Typing speed: You must have fast and accurate typing skills to keep up with the audio or video content.
Equipment Requirements:
Computer or laptop: You should have access to a computer or laptop with a reliable internet.
Headphones: You need good-quality headphone for clear audio playback.
Transcription software: You also need transcription software or text editors to enhance productivity.
Other Requirements:
Time commitment: You must have flexibility and dedication to completing tasks within deadlines.
Reliability and professionalism: You should maintain a professional attitude and be punctual in remote work.
Confidentiality and data security: Strict adherence to confidentiality and data security guidelines is crucial.
Does GoTranscript Hire Worldwide?
Yes, GoTranscript hires worldwide. GoTranscript is a global transcription service provider that accepts applications from individuals around the world.
Whether you are located in the United States, Europe, Asia, or any other part of the world, you can apply for transcription jobs with GoTranscript.
They offer opportunities for remote work that allows people from different countries and time zones to join their team of transcribers.
This global reach makes it convenient for individuals worldwide to seek employment with GoTranscript and work on transcription projects from the comfort of their own homes.
GoTranscript Employees Reviews and Complaints
GoTranscript has 4.2 rating on GlassDoor. PcMag has rated GoTranscript a 4.5 rating. This proves that GoTranscript is worth of considering. Here's the summary of reviews:
Positive Reviews: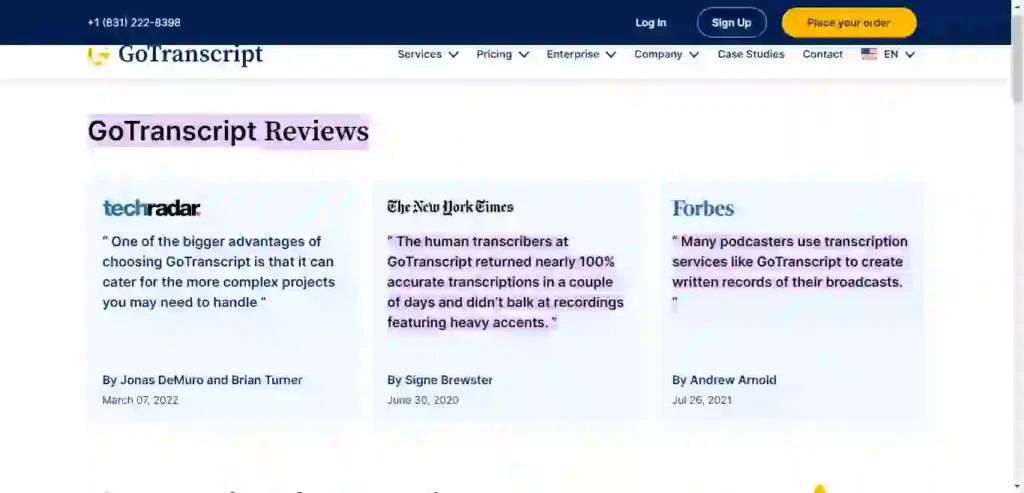 a. Exceptional Accuracy: Users appreciate the high level of precision, as it significantly reduces the need for extensive proofreading and editing.
b. Swift Turnaround Time: Many reviewers have lauded GoTranscript for its impressive speed in delivering transcriptions.
c. User-Friendly Interface: Users have found GoTranscript's interface to be intuitive and easy to navigate.
d. Responsive Customer Support: Users appreciate the team's quick assistance in addressing queries, concerns, and issues that may arise during the transcription process.
e. Competitive Pricing: GoTranscript's pricing is regarded as reasonable and competitive by many users. They feel that the quality of the transcriptions and the overall convenience of the service align well with the cost.
f. Extensive Language Support: Users appreciate the platform's ability to transcribe audio files in various languages.
Complaints:
a. Inconsistent Quality: Some users have reported occasional instances of inconsistent quality in GoTranscript's transcriptions.
b. Difficulty with Complex Audio: A few reviewers have noted that GoTranscript may struggle with complex audio files that involve multiple speakers, technical terminology, or background noise.
c. Limited job availability: Some users find it difficult to find consistent work on GoTranscript, especially during certain periods or for specific language pairs.
What I Like/Dislike About GoTranscript
Like
Competitive Compensation: GoTranscript offers transcriptionists competitive pay rates that ensures fair rewards for their efforts.
Flexibility in Schedule: GoTranscript provides transcriptionists with the flexibility to choose their working hours, accommodating individual preferences and availability.
Diverse Transcription Projects: GoTranscript offers a wide range of transcription projects, allowing transcriptionists to gain experience across various subjects and keep their work engaging.
Supportive Community: GoTranscript fosters a supportive community where transcriptionists can connect, share experiences, and seek advice, promoting collaboration and knowledge-sharing.
Timely Payment Processing: GoTranscript ensures prompt and timely payments to transcriptionists, reflecting its commitment to a reliable payment system.
What I Don't Like About It
Variable pay rates: Users have reported receiving lower compensation than expected, as GoTranscript's pay rates can vary and may not always meet their expectations.
Stringent quality control: GoTranscript's strict and subjective feedback and rating system for transcriptions can lead to disagreements and dissatisfaction among users.
GoTranscript Alternatives
a) GMR Transcription:
• Pay Rate: $0.7-$1.25 Per Audio Minute
• Payment Method: Paypal (Monthly) Or Bank Transfer
• Job Availability: High
• Countries Accepted: USA and Canada Only
• Requirements: Foot Pedal
GMR Transcription was founded in 2004 by Ajay Prasad.
GMR Transcription stands out by offering a wide array of transcription services, including legal, academic, and general transcription, as well as translation services.
Read out full GMR Transcription review.
b) Rev:
• Pay Rate: $0.30-$1.10 per audio minute
• Payment Method: Paypal (Weekly)
• Job Availability: High
• Countries Accepted: Worldwide
• Requirements: No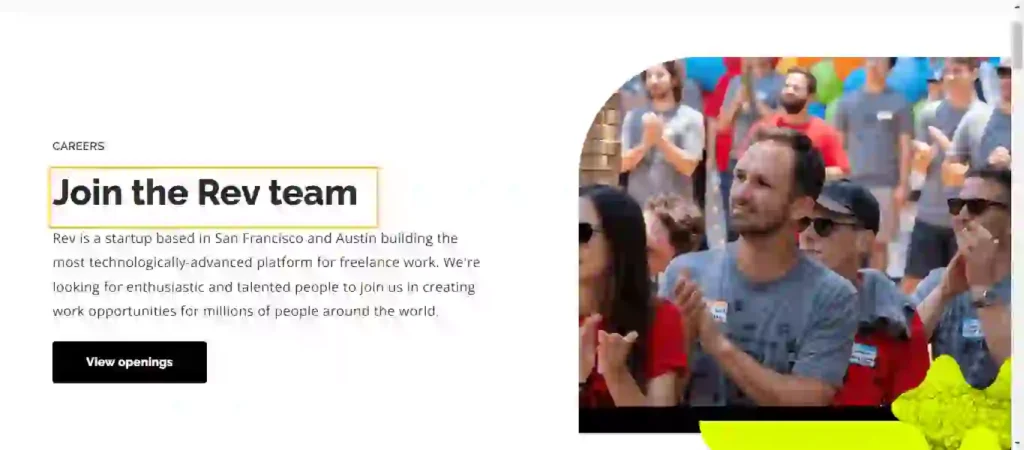 Established in 2010, Rev is a well-known transcription service that not only provides transcription but also offers captioning and translation services.
They boast a large network of freelancers who work on projects, ensuring fast turnaround times and excellent results.
Rev surpasses GoTranscript in terms of a larger pool of freelancers, enabling faster turnaround times and a broader range of services. The inclusion of captioning and translation services adds to Rev's versatility and sets them apart from GoTranscript.
Read out full Rev review.
c) Scribie:
• Pay Rate: $10 per audio hour
• Payment Method: Paypal
• Job Availability: Medium
• Countries Accepted: Worldwide
• Requirements: No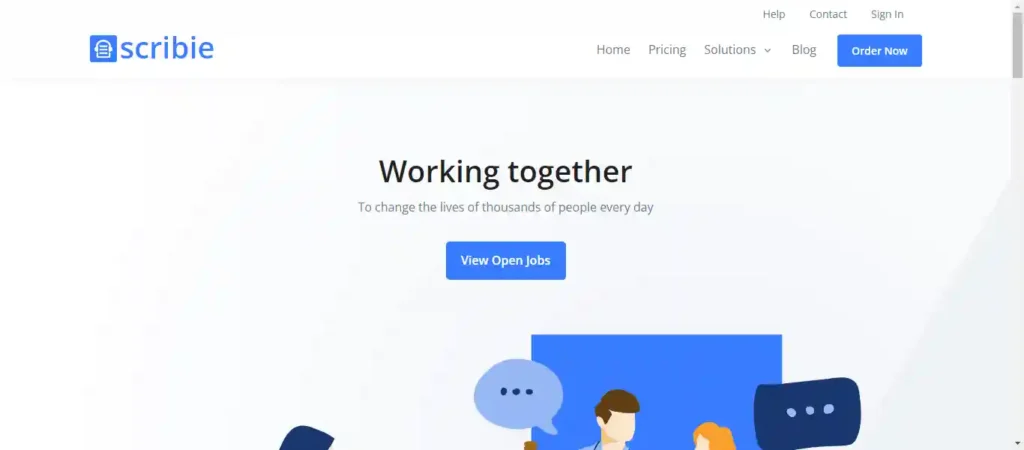 Scribie was established in 2008 by Rajiv Poddar.
They utilize a unique combination of automated speech recognition technology and human editors to ensure accuracy. Scribie offers customizable features such as timestamps and speaker identification to cater to specific client needs.
Their utilization of automated speech recognition technology coupled with human editors elevates the quality assurance process, setting them apart from GoTranscript.
Read out full Scribie review.
d) TranscribeMe:
• Pay Rate: $15-$22 Per Audio Hour
• Payment Method: PayPal (Anytime)
• Job Availability: Medium
• Countries Accepted: Worldwide
• Requirements: No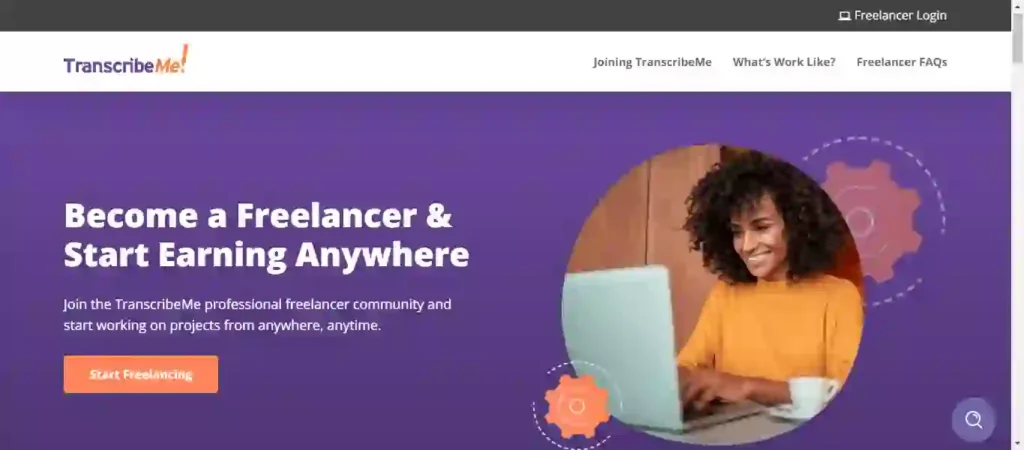 TranscribeMe was established in 2011.
TranscribeMe specializes in crowd-sourced transcription services, where short bursts of work are assigned to multiple transcribers simultaneously.
Their proprietary technology platform breaks down audio files into smaller segments, enabling fast turnaround times and maintaining high accuracy levels.
The ability to simultaneously leverage multiple transcribers often leads to quicker delivery than GoTranscript.
Read out full TranscribeMe review.
e) SpeechPad:
• Pay Rate: $0.3-$1.00 per audio minute
• Payment Method: Paypal (Every Tuesday and Friday)
• Job Availability: Medium
• Countries Accepted: Worldwide
• Requirements: No
SpeechPad was established in 2008 by Ryan Born.
SpeechPad provides transcription services alongside automated speech recognition technology for clients who prefer a self-service option.
They cater to various industries, offering subtitling, translation, and data annotation services.
SpeechPad's combination of professional transcription services and automated speech recognition technology sets them apart from GoTranscript.
GoTranscript Review: Final Thoughts
After carefully evaluating the various aspects of GoTranscript, I can ensure that this transcription service provides a legitimate opportunity for individuals looking for transcription jobs.
The platform offers a streamlined process for transcription work, ensuring efficiency and accuracy.
While there may be certain requirements, such as language proficiency and access to specific equipment, GoTranscript's transparency in outlining these prerequisites contributes to maintaining quality standards.
Say goodbye to scams and hello to a reputable platform that values its employees and delivers exceptional transcription services. GoTranscript is the real deal!