In the world of online side hustles, Testerup has emerged as a popular platform that claims to pay users for testing apps, games, surveys, and more.
One such platform that has been gaining attention is Testerup, which claims to pay users for testing apps, games, surveys, and more.
But the question remains: Is Testerup legit, or is it just another scam that wastes your time?
In this article, I'll dive into Testerup, analyzing its legitimacy, examining the experiences of users, and providing an honest verdict.
What is TesterUp?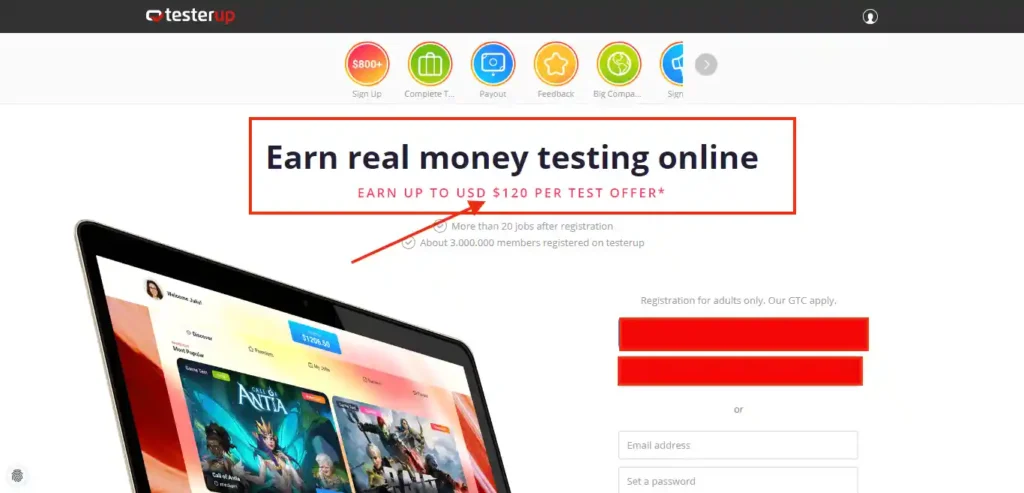 Testerup is a website that allows users to make money by testing out new apps, games, surveys, and other digital items.
The portal claims to offer a diverse selection of jobs and pays out up to $120 per test offer. It sounds enticing, doesn't it? But let's dive deeper to uncover the truth.
Is Testerup Legit?
Testerup is neither completely legit nor a complete scam company. Here's what I mean.
If we look superficially, Testerup seems to be a legit company. But while researching in-depth, I wouldn't hesitate to say Testerup is a scam company.
Firstly, I signed up for Testerup with my email without any problem. I was excited to make money testing apps and completing tasks as advertised on their homepage.
After signing up, I saw lots of offers with earning potential. I decided to complete one offer called Coin Master.
Here are the tasks I need to complete the offer (which is worth $72.5) in 40 days.
a. Installing the app through their link.
b. Completing the tasks (basically have several levels).
Source
I had to reach Village 60 to complete the offer as shown in the image. I completed a few levels for free and after that, I had to spend money to complete higher levels.
So, I decided to quit the offer at that time as it allows me to quit the offer early. Testerup pays me the committed amount up to that level which was ($4.00).
At this point, I realize that completing higher levels without spending money is extremely hard. And, as the level increases the earning increases.
For example, level 1 (pays $1), level 2 (pays $1.5),……level 10 (pays $10). So, the earning potential of initial levels is very low.
Now, you might think that "I will complete some initial levels of a few offers and quit and cash out the money whatever I earned".
It's not as simple as you think.
Here's the catch.
You need to earn at least $70 to cash out your money. And, earning $70 by completing initial levels is very hard and can take a long period.
Even if you earn $70 spending most of your time, there's no guarantee that you can withdraw your money. Because they may suspend your account without a valid reason.
I must say that the team behind Testerup is smart and they've done good work to show Testerup a legit company. But while using the platform, all the activities inside it are not less than spam.
So, to conclude, I don't recommend you try Testerup and waste your valuable time.
You can try other platforms like Swagbucks and UserTesting. But still, these platforms don't make you rich and might not be worth your time.
How Does Testerup Work?
To begin using Testerup, go to their official website and join up. You can finish the signup procedure by connecting your Facebook account or by entering a valid email address and creating a password.
You will have access to the Testerup member dashboard after registering, where you can explore and finish the available offers.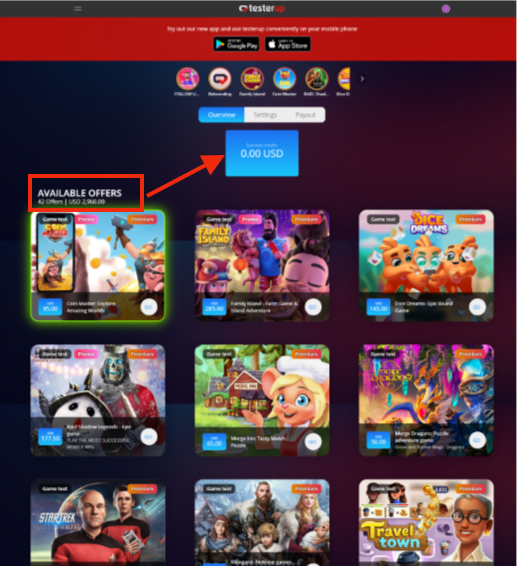 The process is as follows:
a. Browse and try out the new games or apps that are offered.
b. Complete the mission associated with each offer. As you complete more offers, you can progress to become a premium tester, unlocking higher-paying opportunities.
c. Maximize your earnings through the referrals program. Invite others to join Testerup using your unique referral link, and you will earn 10% of their earnings for an active duration of 365 days.
Benefits of being a premium tester include higher pay, more job offers, exclusive tasks, and potential bonuses such as points and freebies. To become a premium tester, you typically need to complete five premium missions.
Testerup Payment and Minimum Payout
According to Testerup's website, they pay users via PayPal within 24 hours of requesting a payout.
However, it's worth noting that the minimum payout threshold is set at a relatively high amount of $70. This may be considered high compared to other similar platforms or apps.
How Much Money Can You Make on Testerup?
Testerup pays you $20 to 100 for completing the offer. But, most of the offer requires you to spend money.
Additionally, you can get paid up to $10 for completing surveys, installing apps, signing up for websites, and more.
You can also get paid by referring your friends (10% of their earnings for 365 days).
Testerup Reviews and Ratings
While searching for the Testerup reviews, I found the majority of reviews negative. Common complaints are high payout threshold, suspension of account without any reason, and poor customer support.
Testerup Reviews on Trustpilot
Testerup has a 4.2-star rating on Trustpilot with the majority of positive reviews. But I think these positive reviews are for convincing you to use them.
However, if we look at negative reviews, there are specific complaints that question the legitimacy of the platform.
Positive reviews
Negative reviews
Testerup Reviews on Google Play Store
Testerup has a 4.3-star rating on the google play store which is again good. But, I am not convinced with the app especially with the suspension of the account without valid reasons and unrealistic advertisements.
Positive reviews
Negative reviews
Testerup Pros and Cons
Like any platform, Testerup has its pros and cons that should be considered before investing time and effort into it.
Pros:
A wide variety of apps, games, and offers are available for testing.
Free registration with no upfront fees.
Accessible worldwide, making it available to users from various countries.
Easy-to-use platform is accessible on both iOS and Android devices.
Payments are made via PayPal, a widely accepted and convenient method.
Cons:
Time-consuming to complete missions and offers.
Some users report difficulties tracking earnings accurately.
High minimum payout threshold of $70, making it challenging to reach.
Suspension of accounts without any valid reasons.
Testerup Alternatives
Swagbucks
Swagbucks is a versatile platform that allows users to earn money through various activities like surveys, video watching, and online shopping. The earning potential varies depending on the specific tasks chosen.
You can cash out your earnings once they reach the minimum payout threshold, which is typically set at $5. Payment options include redeeming gift cards or withdrawing cash via PayPal.
Branded Surveys
Branded Surveys specializes in paid online surveys. The earning potential is influenced by factors such as survey length and complexity.
Once you accumulate earnings totaling the minimum payout threshold, usually set at $10, you can request payment. Options include PayPal transfers or selecting from various gift card rewards.
UserTesting
UserTesting offers opportunities for you to test websites and apps while providing valuable feedback.
Compensation for each test is typically around $10, with the potential for additional testing opportunities.
You can request payment instantly to PayPal when their earnings reach the minimum threshold of $10.
InboxDollars
InboxDollars provides multiple avenues for earning money, such as surveys, video watching, game playing, and completing offers. The earning potential varies depending on the specific activities chosen.
To cash out their earnings, users must reach the minimum payout threshold, which is $10. Payment can be received through PayPal or via a check.
PlayTestCloud
PlayTestCloud specializes in game testing, allowing users to play and provide feedback on unreleased mobile games.
You can request payment once you accumulate a minimum of $10 in earnings, which is typically made through PayPal.
Final Thoughts: Is Testerup Legit?
In conclusion, while Testerup may technically be considered a legitimate platform, the risks and challenges involved make it an unappealing option for those seeking a reliable side hustle.
The high minimum payout threshold, coupled with the difficulty in completing offers without spending additional funds, poses significant obstacles for users.
Furthermore, the suspension of accounts and lack of responsive customer service add to the frustration experienced by many individuals.
Considering the drawbacks and the abundance of alternative online money-making opportunities available, it is advisable to explore other platforms that offer more transparency, lower payout thresholds, and better user support.
In the end, the choice is yours. But it is important to approach Testerup with caution and realistic expectations.
Your time and effort are valuable, so it's crucial to invest them wisely in platforms that prioritize user satisfaction and provide genuine earning opportunities.
I recommend you to read this post if you want to make real money online as a beginners.
FAQS