Solitaire Cash has gained popularity for its solitaire game that awards real money. But is Solitaire Cash legit?
This solitaire cash review will provide valuable information to help you decide whether to play a game or not.
I'll look at key factors like earning potential, payment history, user experiences, and transparency.
My aim is to provide a clear assessment of Solitaire Cash so you can determine if it's a worthwhile way to potentially earn extra money.
Key Takeaways
Solitaire Cash is a legitimate mobile game app where you can play Solitaire and compete against other players to win real cash prizes.
The app has over 200,000 positive reviews and ratings of around 4.6/5 stars.
To make worthy money, you need to enter paid tournaments and try to complete games faster than other players.
Tournaments have entry fees (starting at $1) that can be paid with gems (earned in-app) or real money. Prizes range from $1 to $100+ for top finishers.
Is Solitaire Cash Legit and Worth it?
Yes, Solitaire Cash is a legitimate app to play Solitaire and win real cash prizes. It has a rating of 4.6/5 on the app store with 245k+ reviews and most players are paid after winning tournaments.
I have curated a few pros and cons of the app so that you can figure out whether it is worth it or not.
Pros:
A fun way to play classic Solitaire.
200,000+ positive reviews.
Free to download and play.
Prizes up to $100+.
Cons:
Hard to win without depositing money.
Potential to lose deposited money.
Low earning potential for casual players.
My Verdict
I think Solitaire Cash is worth trying if you enjoy classic Solitaire and want a fun and competitive twist. But I don't recommend Solitaire Cash or any other gaming apps if you want to make real money.
What Is Solitaire Cash?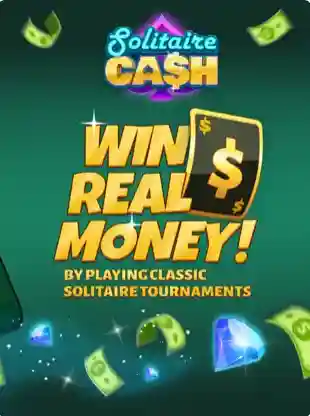 Solitaire Cash is a free mobile gaming app created in 2016 by Papaya Gaming that lets you play Solitaire for a chance to win real cash prizes.
It has over 245,000 reviews on the App Store, with a rating of 4.6 out of 5 stars.
You compete against other players by racing to complete Solitaire games, with cash payouts awarded to the fastest players.
Overall, Solitaire Cash provides an entertaining way to play skill-based Solitaire for cash winnings but involves an element of gambling where deposited money could be lost.
How To Earn Money with Solitaire Cash?
Solitaire Cash offers a few ways to earn real cash prizes:
Play Free Games
One of the key ways to get started is by playing free Solitaire games within the app. This allows you to familiarize yourself with fast-paced gameplay where speed and accuracy are vital.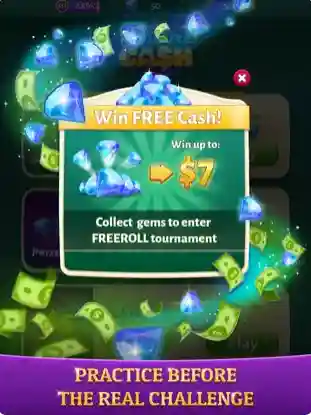 The more free games you play, the more you'll level up your account and accumulate gems. Gems are the virtual currency used in Solitaire Cash.
Your accumulated gems then allow you to enter "freeroll" tournaments. It takes about 1,200 gems to enter a freeroll tournament with a $5- $7 cash prize pool.
Paid Tournaments
For larger potential payouts from $20 to $100+, you can choose to enter paid cash tournaments by depositing real money into your Solitaire Cash account.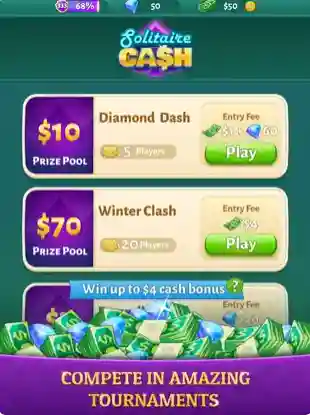 These tournaments have 4 to 20 players competing for the cash prize pool. Buy-ins for paid tournaments range from $1 to $15 based on the prize amount and number of players.
To win money from paid tournaments, you'll need to finish towards the very top, usually in the top 3 spots. This allows you to win back more than your entry fee.
The prize pool is distributed to the top finishers, so your ranking matters. As you play more, your skill ranking will rise, matching you against better players for bigger prizes.
Scoring Bonuses and Rewards
Aside from tournament winnings, Solitaire Cash provides other ways to earn:
Daily Rewards
Log in for 3, 5, or 7 consecutive days to earn small cash bonuses. This provides a consistent drip of extra funds.
Referrals
Earn a $1 cash bonus for every friend you refer who signs up using your custom referral link code.
Cash Deposit Rewards
When depositing real money, you get bonus gems allowing for more plays.
Specific deposit amounts also come with bonus cash added to your account, helping offset losses.
Watching Videos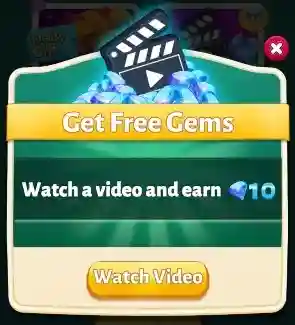 Earn gems (up to 5 videos daily) for watching short video ads. More gems equal more plays.
Related: 29 games that pay instantly to PayPal.
How much can you earn with Solitaire Cash?
To be honest, I see that the chance of losing money is more than earning money on Solitaire Cash if you play paid tournaments.
Few experienced players are only making money consistently.
Despite that fact, the amount you can earn with Solitaire Cash varies substantially based on skill level:
Casual players will likely earn just a few dollars per day on average from small tournament wins and bonuses.
More experienced players who develop rapid Solitaire skills can potentially make $10-$20 daily, or around $100-$300 monthly.
For example, you can play the cash tournaments with a $4 entry fee among 20 players and can win a particular portion of the $70 if you come in the top 3.
However, consistency is difficult to achieve given the large element of luck involved in each round.
How does Solitaire Cash work?
Solitaire Cash is a mobile gaming app that lets you play Solitaire to win real cash prizes. The basics of gameplay are:
Play free Solitaire games to earn gems, which are virtual currency. Gems allow you to enter tournaments.
Enter free "freeroll" tournaments using gems to compete for small cash rewards.
For prizes up to $100, enter paid tournaments by depositing money. Fee range from $1-$15.
In tournaments, you quickly play Solitaire hands while competing against other players of similar skill.
The players with the top scores in each tournament win a share of the prize pool.
Aside from tournaments, you can earn rewards through referrals, loyalty bonuses, cash deposits, and watching ad videos.
Who can play Solitaire Cash?
Solitaire Cash is a mobile gaming app for iOS and Android (Galaxy store) intended for adult players ages 18+ due to real money wagering.
Cash tournaments are not available in several states including Arizona, Arkansas, Indiana, Iowa, Louisiana, Maine, Maryland, Montana, South Carolina, and South Dakota due to gambling restrictions.
The app is best suited for experienced Solitaire enthusiasts who enjoy fast-paced, competitive gameplay and are comfortable with some elements of skill-based gambling. Developing quick card play skills is key to succeeding.
While casual players may find entertainment and small rewards, the highest earning potential lies with seasoned Solitaire experts who can rapidly play error-free games. With practice, top competitors can potentially win large payouts of up to $100 per tournament.
How to get started with Solitaire Cash?
1. Download the Solitaire Cash app from App Store or Galaxy Store.
2. Create an account and choose your player avatar and username.
3. Play the tutorial to learn the gameplay mechanics.
4. Start playing free games to earn gems and increase your skill level.
5. Once you accumulate enough gems, enter "freeroll" tournaments to compete for small cash rewards.
6. Optionally deposit real money to gain access to bigger prize tournaments.
7. Keep practicing regularly to improve your Solitaire skills and strategy.
8. Analyze your tournament outcomes to find appropriate competition tiers for your skill level.
9. Withdraw any winnings via PayPal once you meet the minimum balance threshold of $5.
Also read: Games that pay to cash app.
Solitaire Cash Reviews by Players
Many players have given numerous reviews on Solitaire Cash. Here, I will highlight some important positive and negative reviews given by the players on Reddit and the app store.
NotRealWater Says: It's just as driven. They're paying you money to watch ads, not play solitaire. They'll almost certainly make it so you do technically earn money but would have to watch ads for 10yrs before you earned enough to cash out.
jjohnson1979 Says: If it seems too good to be true, it usually is!
SaraZorker Says: I am able to win quite a fair amount, and have never felt like the game was rigged. I always feel like I have a fair game! There haven't been a ton of ads or anything like that! Overall, a fantastic game!
Solitaire Cash Alternatives
Mistplay
Mistplay is a popular Android app that rewards users for playing sponsored mobile games. You download featured games in the Mistplay app and earn points for hitting game milestones and achievements.
These points can then be redeemed for gift card rewards like Amazon, Visa, Starbucks, and more.
Mistplay is free to use and provides access to hundreds of different mobile games across genres like action, puzzle, strategy, and arcade. Unlike Solitaire Cash, Mistplay does not involve any real money wagering or gambling.
Read my full MistPlay review.
Bingo Cash
For Solitaire Cash users who enjoy social multiplayer games, Bingo Cash provides a popular cash-based bingo app experience. Players compete in real-time 75-ball and 90-ball bingo games for a chance at jackpot prizes.
Like Solitaire Cash, you can play with earned loyalty points or deposited cash. Bingo Cash includes chat features and in-app friends to enhance social dynamics.
Read my full Bingo Cash review.
Bubble Cash
From the same developers as Solitaire Cash, Bubble Cash is a fast-paced, skill-based puzzle game. The gameplay involves shooting bubbles to clear them from the board as quickly as possible. Like Solitaire Cash, players compete in tournaments and the top scorers win cash prizes.
Bubble Cash also uses a similar gems system, where you earn gems from free games to enter cash prize tournaments. The app provides a colorful, arcade-style alternative to Solitaire Cash for fans of casual bubble shooter games.
Solitaire Clash
Solitaire Clash is a head-to-head Solitaire app created by game publisher Bit Fry. The gameplay mimics Solitaire Cash in that you compete in tournaments to play Solitaire hands as fast as possible for cash rewards.
Solitaire Clash runs daily and weekly tournaments with prizes of up to $250. It offers integrated chat features so you can interact with other players.
The app also includes club competitions and team battle modes for an enhanced social experience beyond just standard 1v1 tournaments.
Cash Giraffe
Cash Giraffe is a fast-growing money-making app where you play casual games like Solitaire, slots, and puzzles.
However, it does not involve gambling against other players. Instead, you accumulate tickets from gameplay that can be entered into frequent cash prize drawings.
Compared to tournament-based apps, Cash Giraffe appeals to players looking for a more low-pressure, recreational way to play games for money. Winnings come from randomized prize draws rather than your performance.
Final Thoughts
Solitaire Cash puts a new spin on classic Solitaire by letting you compete for real cash prizes. The app has over 200,000 positive reviews, so it does pay users.
However, you need skills to win consistently, and it involves gambling where you can lose deposited money.
Personally, I don't recommend you Solitaire Cash or any other games if you want to make real money.
And if your intention is to make money from playing games, then you might feel sad most of the time.
Frequently Asked Question Answers