In the evolving remote work opportunities, transcription services have gained significant popularity. GMR Transcription is one such company that claims to offer transcription jobs to individuals seeking flexible work options.
If you're considering joining GMR Transcription or are curious about its legitimacy, then you are in right place.
In this GMR transcription review, I'll discuss everything about GMR transcription, including its job opportunities, payment structure, the application process, and more.
So let's dive into GMR Transcription reviews and find out if it's a legit opportunity or a scam.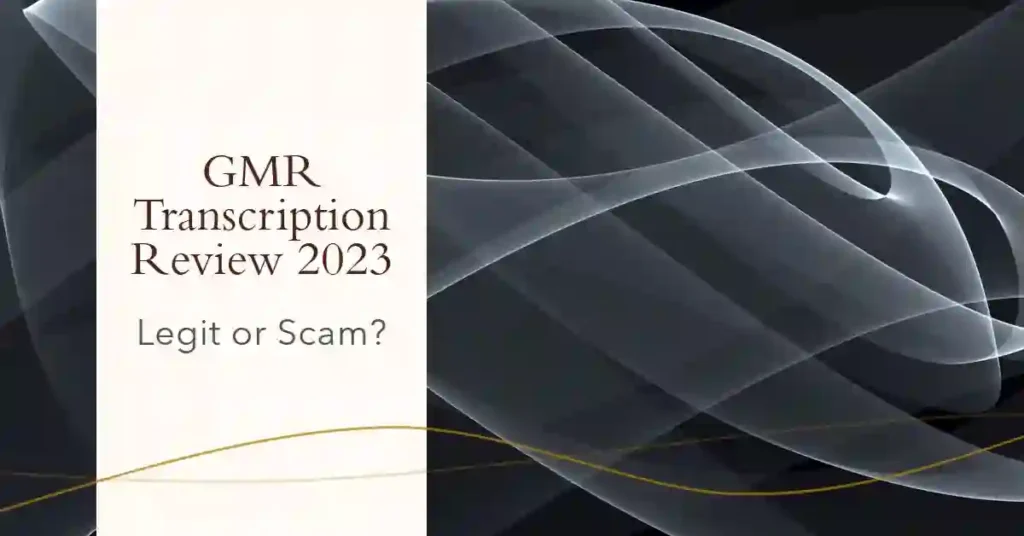 GMR Transcription Summary
• Pay Rate: $0.7-$1.25 Per Audio Minute. The website claims that transcriptionists are making $1,000 – $3,000 a month.
• Payment Method: Paypal (Monthly) Or Bank Transfer
• Job Availability: Medium. Generally, they hire general transcriptionists, Spanish transcriptionists, and certified translators a lot.
• Countries Accepted: USA and Canada Only
• Requirements: Typing speed of at least 50 words per minute along with essential skills and equipment.
• Is GMR Transcription Legit?: Yes, it is a legit company that has one of the highest ratings of 4.6 according to Glassdoor.
Now, Let's dive into an in-depth review of GMR Transcription.
What is GMR Transcription?
GMR Transcription is a reputable transcription service provider known for delivering accurate and efficient transcription solutions. GMR transcription was founded in 2004 by Ajay Prasad.
They serve to various industries like academic, legal, medical, and corporate sectors. With years of experience, GMR Transcription has established a strong presence in the industry and garnered a substantial customer base.
How much does GMR Transcription pay?
GMR Transcription offers varying payment rates depending on the project and the transcriptionist's experience. They typically compensate transcriptionists per audio minute or per word, taking into account factors like industry, content complexity, and turnaround time.
According to Glassdoor, GMR Transcription pays an average of $18 per hour. Similarly, the website claims that a transcriptionist earns between $1000 – $3000 per month depending on skills, experience, and type of work.
Furthermore, Transcriptionists working with GMR Transcription have reported earning rates ranging from approximately $0.70 to $1.25 per audio minute, depending on the project's complexity and specialization.
(Note that per audio minute and per minute earnings are different. Per audio minutes means 1 minute of audio to be transcribed. Normally, it takes 2-6 minutes to transcribe 1 audio minute.)
Specialized fields like medical or legal transcription often command higher rates due to the specific knowledge and terminology required.
GMR Transcription ensures transparent and timely payments to their transcriptionists. They use reliable payment methods such as PayPal or direct bank transfers.
Related: Read the best online transcription jobs for beginners.
Is GMR Transcription a Scam?
No, GMR Transcription is not a scam. GMR Transcription is a legitimate transcription service provider, and there is no evidence suggesting it is a scam.
Here are six points that support this conclusion:
Longevity and Reputation:
GMR Transcription has been in operation since 2004 and has built a solid reputation as a reliable transcription service provider. Scam operations often have short lifespans and lack credibility.
Genuine Services:
GMR Transcription offers genuine transcription services to clients across various industries. Scam companies often promise services they cannot deliver or provide low-quality work.
GMR Transcription has a track record of delivering accurate and efficient transcription solutions.
Transparent Information:
GMR Transcription provides transparent and detailed information about its services, job opportunities, payment structure, and requirements on its website.
Scam companies tend to be vague or misleading in their communication. GMR Transcription's transparency demonstrates its legitimacy.
Fair Payment Structure:
GMR Transcription offers competitive compensation to their transcriptionists based on industry standards.
Scam operations often make unrealistic promises of high earnings without fulfilling them. GMR Transcription's fair payment structure aligns with legitimate transcription companies.
Remote Job Opportunities:
GMR Transcription provides legitimate remote transcription job opportunities that allows individuals to work from home or any location with an internet connection.
Scam companies may pressure individuals to invest money or engage in suspicious schemes.
Mixed Reviews:
Like many businesses, GMR Transcription has received more positive and less negative reviews. It is not uncommon for legitimate companies to have mixed feedback.
GMR Transcription has a 4.6-star rating (out of 5) on Glassdoor which proves that it is a legit company.
Scam companies often have overwhelmingly negative reviews due to their fraudulent practices.
GMR Transcription Review: Transcription Jobs
GMR Transcription offers remote job opportunities especially for general and Spanish transcriptionist  interested in transcription work.
Here are some key points to consider about GMR Transcription jobs:
a. Remote Work: GMR Transcription provides remote job opportunities that allows you to work from your home. This flexibility is ideal for you especially if you prefer a work-from-home arrangement or require a flexible schedule.
b. Transcription Specialization: GMR Transcription serves various industries such as academic, legal, medical, and corporate sectors. You may have the chance to work on projects from different domains, depending on your expertise and interests.
c. Job Availability: GMR Transcription frequently hires new transcriptionists to meet the growing demand for their services. The availability of jobs may vary based on project requirements and workload. Checking their website or career section regularly can keep you updated on job openings.
You can find various job opportunities for general transcriptionists here.
How Does GMR Transcription Work?
GMR Transcription work as an online platform that facilitates the connection between clients seeking transcription services and qualified transcriptionists. The operational process of GMR Transcription can be outlined as follows:
a. Client Submission: Clients submit their audio or video files. These files encompass a wide range of content, such as interviews, meetings, podcasts, webinars, or any other form of audio material requiring transcription.
b. File Review: Upon receiving the files, GMR Transcription assigns a dedicated project manager who assesses the audio quality, identifies specialized terminology or instructions, and determines an estimated turnaround time for the transcription.
c. Transcription Process: Now, the file is sent to you. You shold attentively listen to the audio, ensuring accuracy, proper grammar, punctuation, and formatting.
d. Quality Assurance: Completed transcriptions undergo a meticulous quality assurance process. GMR Transcription employs proficient proofreaders and editors who review the transcriptions for accuracy, clarity, and compliance with specific client requirements.
e. Delivery and Review: The transcriptions, then, are delivered to the client through their preferred method. Clients have the opportunity to review the transcriptions, provide feedback, or request revisions if necessary.
f. Payment and Confidentiality: GMR Transcription follows a payment model based on audio length, requested turnaround time, and additional services. The platform ensures the utmost confidentiality and security of client data by implementing measures to safeguard sensitive information.
In summary, GMR Transcription operates through an efficient process that integrates technology, qualified professionals, and quality control measures to deliver accurate and prompt transcription services to clients.
How To Apply For GMR Transcription Job?
To apply for a job at GMR Transcription, follow these simple steps:
a. Visit the official GMR Transcription website.
b. Look for the Careers or Jobs section.
c. Explore the available positions and read the job descriptions. GMR transcription often needs a general transcriptionist, a Spanish transcriptionist, and a certified translator.
d. Ensure you meet the necessary qualifications and requirements.
e. Click on the application link or button.
f. Now you need to give your email and pass a one-minute typing test.
g. Fill out the online application form with your personal information, contact details, education, and work experience.
h. Upload any required documents, such as your resume, cover letter, or work samples.
i. Pass the test exam and review your application for accuracy and completeness.
j. Submit your application and wait for a response.
How to Pass the GMR Transcription Exam and Get a Job?
To pass the GMR Transcription exam and secure a job opportunity, it is essential to prepare effectively. Here are some key steps to increase your chances of success:
Review Guidelines: Familiarize yourself with GMR Transcription's specific guidelines on accuracy, formatting, and punctuation.
Enhance Typing Skills: Your typing speed should be at least 50 WPM. Practice regularly to improve your typing speed and accuracy.
Develop Listening Skills: Train your ears to pick up nuances, accents, and speech patterns by practicing with various audio files.
Study Terminology: Familiarize yourself with industry-specific terminology to transcribe accurately and efficiently.
Manage Time Efficiently: Practice time management to meet deadlines without compromising accuracy.
Utilize Transcription Tools: Become comfortable with transcription tools and software recommended by GMR Transcription.
Take Practice Tests: Seek out sample audio files and practice transcribing within a set time limit.
Proofread and Edit: Review your work for accuracy, grammar, punctuation, and formatting errors.
Maintain Focus: Stay calm and avoid distractions during the exam to produce high-quality work.
Read also on how to become a transcriptionist and make money.
GMR Transcription Reviews: Requirements
Jobs Requirements
GMR Transcription has certain job requirements in place to ensure that transcriptionists possess the necessary skills for delivering high-quality work. These requirements include:
Typing Speed: You must have a minimum typing speed of 50 words per minute (WPM). This ensures efficient transcription and accuracy.
Country Accepted: They only accepts transcriptionists from USA and Canada only.
Passing the Exam: You must pass the exam to get accepted. The exam evaluates your transcription skills, grammar, punctuation, and ability to follow instructions.
Equipment Requirements
Having the appropriate equipment is crucial for successful transcription work with GMR Transcription. Here are the equipment requirements you should consider:
a) Computer: You need computer with sufficient processing power, RAM, and storage capacity to handle transcription software and files efficiently.
b) Internet Connection: A stable, high-speed internet connection is essential for seamless communication with GMR Transcription and prompt file uploads and downloads.
c) Transcription Software: GMR Transcription may provide their preferred transcription software, or you may need to have your own software that supports the required file formats.
d) Headphones: High-quality headphones are vital for accurately hearing and transcribing audio files. You must have headphones with noise-canceling features to minimize external distractions.
e) Foot Pedal (Optional): While not mandatory, some transcriptionists find foot pedals helpful for controlling audio playback, enhancing productivity and accuracy by freeing up their hands.
Other Requirements
In addition to the job and equipment requirements, GMR Transcription has certain other prerequisites in place to ensure the transcriptionists' professionalism and the delivery of accurate work. Here are the key points to note:
Language proficiency: You must possess strong language skills, including grammar, spelling, and punctuation, to transcribe audio or video files accurately.
Attention to detail: You should have excellent attention to detail to capture every word and maintain the intended meaning of the audio.
Time management skills: Meeting deadlines is crucial in transcription. You must exhibit effective time management to deliver transcripts within the specified turnaround time.
Confidentiality and data security: GMR Transcription deals with sensitive information, so you must strictly adhere to confidentiality guidelines and maintain data security protocols.
Communication skills: You should demonstrate clear and effective communication when interacting with clients or the GMR Transcription team.
Does GMR Transcription Hire Worldwide?
No, GMR Transcription doesn't hire transcriptionists from around the world. They only hire transcriptionists from the United States and Canada. You should be in one of these countries to become a transcriptionist in GMR transcription.
GMR Transcription Employees Reviews and Complaints
When assessing the viability of GMR Transcription as a potential job opportunity, it is must to evaluate the reviews and feedback from current and former employees.
This provides valuable insights into the work environment, management practices, and employee satisfaction levels.
GMR Transcription has an excellent 4.1-star rating on Indeed. Similarly, GMR transcription employees rate 4.6 on Glassdoor.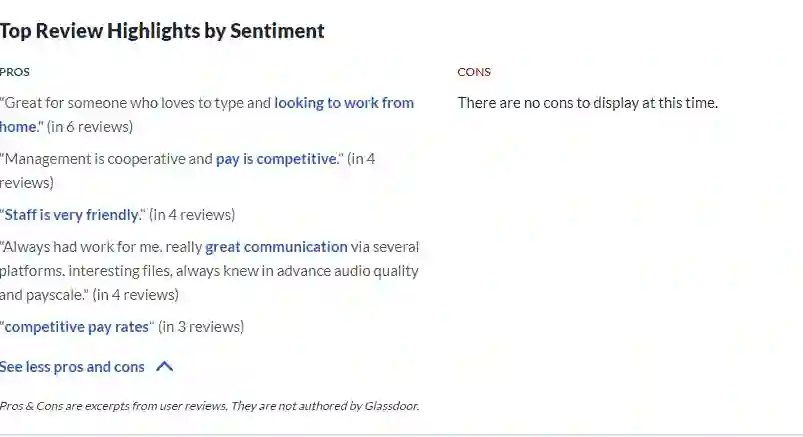 Here's a summary of employee sentiments regarding GMR Transcription:
a. Positive Reviews:
Employees often express appreciation for the flexibility offered by GMR Transcription, enabling them to work remotely and select their own schedules.
Many transcriptionists are satisfied with GMR transcription pay rates.
b. Negative Reviews and Concerns:
Some employees have voiced dissatisfaction regarding inconsistent work volume, and reporting periods with limited assignments that result in income fluctuations.
While the majority of employees have positive experiences, occasional complaints have been made regarding delayed payments or payroll-related issues.
What I Like/Dislike About GMR Transcription
Like
Competitive Compensation: GMR Transcription offers attractive pay rates for transcriptionists.
Flexibility in Scheduling: Transcriptionists enjoy the freedom to set their own schedules, accommodating personal commitments and preferences..
User-Friendly Platform: GMR Transcription has easy to use user interface to simplify the transcription process.
Supportive Community: GMR Transcription cultivates a supportive environment where transcriptionists can connect with peers, seek guidance, and share experiences.
Professional Development: GMR Transcription offers resources, feedback, and industry updates to assist transcriptionists in honing their skills and advancing their careers.
Reliable Payment System: Transcriptionists can rely on GMR Transcription for timely and dependable payments.
Dislike
Limited Job Availability: Some reviewers find the availability of jobs at GMR Transcription to be restrictive that make it difficult for individuals seeking consistent work.
Unpredictable Work Assignments: Inconsistent work assignments from GMR Transcription have been reported, with periods of high demand followed by extended periods of little to no work.
Transcription Accuracy and Quality: Some reviewers have expressed concerns about occasional inaccuracies or errors in GMR Transcription's transcriptions, suggesting the need for improved quality control measures.
Overall, I think GMR Transcription is one of the best transcription companies to work for. I haven't seen a transcription company having more than 4.6-star employee ratings on Glassdoor.
I have also reviewed other transcription companies and GMR transcription is the best among them. That's why, I have kept GMR transcription in 1st place in my article on "25 best transcription jobs for beginners".
Related: Pros and cons of working as a transcriptionist.
GMR Transcription Alternatives
While GMR Transcription is a reputable service, it's important to explore other options that can meet your specific needs. Here are five alternatives worth considering:
a) Rev:
• Pay Rate: $0.30-$1.10 per audio minute
• Payment Method: Paypal (Weekly)
• Job Availability: High
• Countries Accepted: Worldwide
• Requirements: No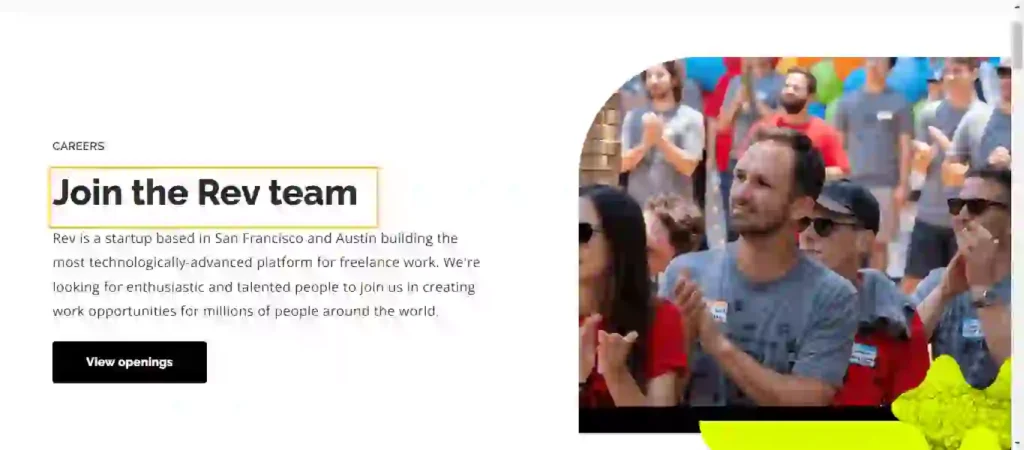 Rev is an online platform offering transcription, captioning, subtitling, and translation services.
It connects between freelancers and clients seeking accurate transcriptions of audio and video content.
Read full review on Rev.com here.
b) TranscribeMe:
• Pay Rate: $15-$22 Per Audio Hour
• Payment Method: PayPal (Anytime)
• Job Availability: Medium
• Countries Accepted: Worldwide
• Requirements: No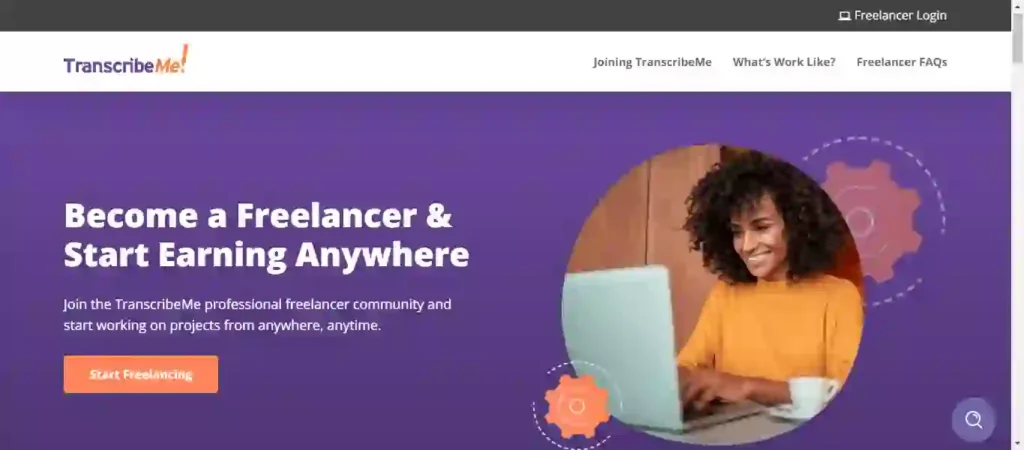 TranscribeMe is a legitimate transcription service that has been operating since 2011.
It offers reliable transcription solutions to individuals and businesses, using a combination of human expertise and advanced technology.
Read our full TranscribeMe review.
c) Scribie:
• Pay Rate: $10 per audio hour
• Payment Method: Paypal
• Job Availability: Medium
• Countries Accepted: Worldwide
• Requirements: No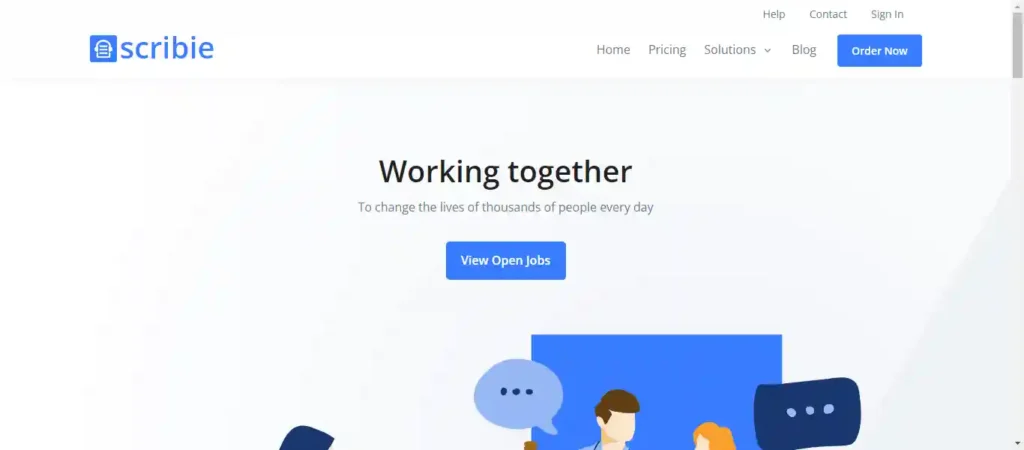 Scribie is a transcription service that was founded in 2008 by Rajiv Poddar. It provides a platform for individuals to transcribe audio and video files into written text.
Their user-friendly platform simplifies file uploading, order tracking, and secure payment processing.
Read our full Scribie review.
d) GoTranscript:
• Pay Rate: $0.6 per audio minute
• Payment Method: Paypal Or Payoneer (Weekly)
• Job Availability: Medium
• Countries Accepted: Worldwide
• Requirements: No
GoTranscript was founded in 2005 by Peter Trebekov, a visionary entrepreneur with a passion for language services.
GoTranscript offers a wide range of transcription services, including audio and video transcription, translation, and subtitling.
Read our full GoTranscript Review.
e) CrowdSurf:
• Pay Rate: $0.03-$0.20 per audio minute with daily bonuses
• Payment Method: Paypal, WM Visa card, Bank Transfer
• Job Availability: Medium
• Countries Accepted: Worldwide
• Requirements: No
CrowdSurf is a transcription platform that utilizes a collaborative approach to deliver efficient and precise transcriptions. They have a large community of freelance transcribers who contribute to various projects.
Read in-depth about the 25 best transcription jobs for beginners.
GMR Transcription Review: Final Thoughts
In conclusion, after a thorough review of GMR Transcription, I can confidently say that the company is far from a scam.
GMR Transcription ensures that only qualified individuals are selected for their transcription jobs with a rigorous application process and exam. The pay rates are competitive and vary depending on the type of transcription work.
The company's dedication to maintaining high-quality standards, efficient turnaround times, and excellent customer support solidify its position as a trustworthy transcription service.