Yepp is a new mobile app that offers users the chance to earn money by creating and sharing viral memes.
This Yepp app review will dive into the platform in detail to assess its legitimacy and real potential for meme creators to monetize their content.
I'll evaluate features, earnings model, and potential issues to provide a comprehensive look at whether Yepp is worth meme creators' time and effort.
Key Takeaways: Is Yepp App Legit?
Yepp is a meme creation and sharing app that rewards users with coins for creating and sharing memes.
Many users feel the amount earned from creating memes is very small for the effort required.
Some users report being unable to cash out their earnings from the app. They can accumulate coins but can't withdraw them.
Technically Yepp seems legitimate, earnings appear to be tiny and it's unlikely to generate significant income. So, Yepp is legitimate but a waste of time.
Now let's dive into an in-depth review of the Yepp App.
What is the Yepp App?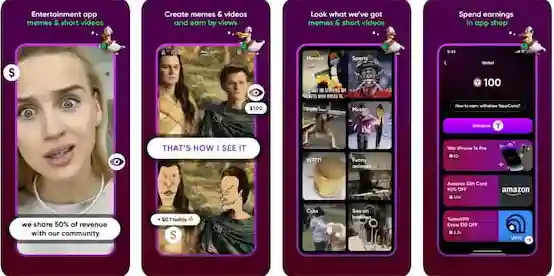 Yepp is a meme creation and sharing app. Users can create memes and get paid in coins based on the number of views their memes receive. The more viral the meme, the more coins are earned.
At the time of writing, the Yepp app is not available on the App Store or play store. But it was listed in the past. Based on past ratings, it has a 4.2-star rating on the play store and 4.5 stars on the app store.
How Does Yepp App Work?
Install and Sign Up – Download the free Yepp app from the app store and create an account by signing up with email or social media.
Set Up Profile – Create your profile by adding a photo, bio, interests, etc. This helps Yepp recommend tailored memes for you.
Create Memes – Use the meme generator in the app with templates and tools to add text. Also, upload your own photos to make custom memes from scratch.
Publish and Earn Coins – Post your memes to the community feed in the app. Earn coins when your memes get views, likes, and engagement. Coins start at 100 views.
Withdraw Earnings – Once you've earned enough coins, cash out your balance for gift cards or PayPal money after hitting the withdrawal threshold. Takes substantial coins.
How to Make Money on Yepp App?
Here're three main ways to make money on Yepp App:
Inviting Friends
The first way to earn on Yepp is through its invite friends program. When you join Yepp, you are given a unique invite code.
You can share this code with friends, on social media, or on other meme community platforms. When someone signs up for Yepp using your invite code, you are awarded Yepp coins.
The more friends that sign up with your unique code, the more coins you can accumulate over time.
However, it requires actively promoting your code and convincing friends to install the app. The earnings are also dependent on how long those referred friends remain active on Yepp.
Earning Daily Rewards
A simpler way to earn is through the daily rewards program. Just by opening the Yepp app and being active daily, you receive a small number of coins.
This requires minimal effort, just launching the app and engaging with some content for a few minutes.
Creating Viral Memes
The main way active users can potentially earn larger amounts is by having their created memes go viral within the Yepp community.
When your memes gain views, likes, shares, and comments, you are awarded coins based on that engagement. Memes that reach view milestones like 100 views, 1,000 views, or 10,000 views trigger bigger coin rewards.
To go viral requires creating highly engaging, funny, and relevant memes consistently. You need a keen sense of trending topics and meme formats that will resonate with the community.
It also requires building a large follower base within Yepp to reach a wider audience. For most users, earnings from memes will be small changes without a broad reach.
Yepp App Features
Meme Generator:
Yepp has an in-app meme creator with templates and tools to easily add text and images to make your own memes. This provides an easy way to make memes without using additional apps.
Content Recommendations:
The app uses machine learning and image recognition to analyze your activity and interests. It then recommends memes and content tailored specifically to you over time. This personalizes the app experience.
Analytics:
You can view in-depth analytics on your memes and account. See total views, likes, comments, and coins earned per meme. Also, track followers and profile views. This lets you optimize your content.
Face Swap:
Yepp has a face swap feature that uses AR to replace faces in memes and videos with a face of your choosing. This adds a fun way to customize and personalize popular memes.
In-App Community:
The community feed lets you share your memes and see content from others. You earn coins based on how your memes perform within this community according to views, likes, and comments. Building an audience here is key.
Yepp App Requirements
Mobile Device – Yepp is only available as a mobile app for iOS or Android phones and tablets.
Internet Access – You'll need an internet connection to download, use, and share content on the app.
Email Account – Signing up requires an email account that you can verify with a confirmation link.
Age Limit – Yepp requires users to be at least 18 years old due to COPPA regulations.
Time and Effort – Consistently creating content and building an audience takes significant time and effort to earn a reward.
Yepp App Reviews and Ratings
As I said earlier, the Yepp app is no longer available in the Play Store and App Store. But you can download the app from a third-party store.
Yepp App had a 4.5-star rating on the apple app store and a 4.2-star rating on the google play store in the past when it was listed. Here's what users said about Yepp App: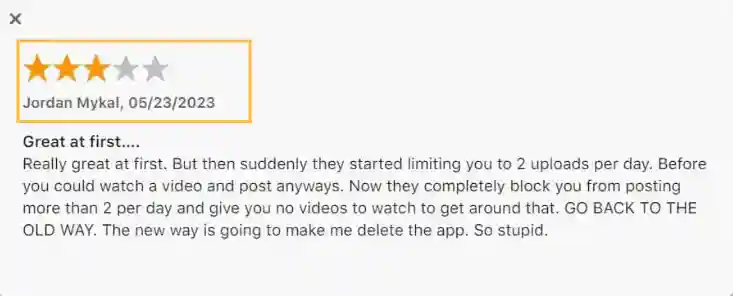 Final Thoughts: Is Yepp App Legit?
From my experience, I would say that Yepp is a legitimate app technically, but not worth spending much time on for earning money.
When I first got Yepp, I was excited to potentially earn some extra cash making and sharing memes. And the app does function as advertised without any overt scams.
However, after using Yepp daily for a while, it became clear that the tiny amounts of coins earned don't add up to much actual money.
While the coins are real, the time and effort it takes to accumulate enough coins to redeem any meaningful rewards or gift cards just isn't worth it.
I could spend hours crafting memes, inviting friends, and sharing my Yepp profile only to earn what amounts to pennies.
So, I don't believe Yepp is a fake app or an outright scam – the coins do translate into real rewards eventually.
But for anyone hoping to make supplemental income through Yepp, the earnings are far too minuscule for the time investment required.
Furthermore, there might be a problem in withdrawing money since it has no PayPal option. You can convert the coins into crypto in your Binance account or redeem gift cards.
Unless you have tons of free time and just enjoy making memes for fun, I wouldn't recommend bothering trying to "make money" through Yepp.
The earnings process is too slow for Yepp to serve as anything beyond a hobby for meme creators.
I recommend you to read these blog post if you really want to make money: