Product Reviews have become an important part of many consumers' decision-making processes in today's age of e-commerce.
Companies are aware of this trend and have offered free products for reviews to gain a competitive edge.
But, with so many options available, identifying the companies that offer the greatest offers might take some effort.
That is why we have compiled a list of the 27 best companies that offer free products for review in 2023.
Prepare to explore some exceptional brands eager to share their products with you for free if you want to become product reviewer!
Easiest Ways to Make Extra Cash (Top Offers)
Rakuten: Get upto 20% cashback for shopping on your favorite store such as Walmart, Target, etc. Get $30 sign up bonus when you spend $30 on shopping. Join Now!
Swagbucks: Make money completing surveys, watching videos, playing games, and more. Get $10 sign up bonus. Join Now!
Respondent.io: Earn upto $100 per hour participating on market research and giving opinions. Join today!
Rebaid: Get discounted and free products on Walmart, Amazon, etc. Join Now!
Companies That Offer Free Products For Review
1. Amazon Vine
Amazon Vine is a program offered by Amazon that allows selected reviewers to receive free products in exchange for reviews. Amazon Vine reviewers are chosen based on their reviewer rank, which is determined by the quality and helpfulness of their reviews.
Amazon Vine reviewers are considered "trusted" reviewers, and their reviews are highlighted on Amazon's product pages.
You can receive products for review in a variety of categories such as electronics, home and kitchen, beauty and personal care, books, toys and games, and more.
Amazon Vine reviewers are not paid for their reviews, but they can keep the products they receive for free.
Not all Amazon products qualify for the Vine program, and not all reviewers are chosen to take part in the program.
Additionally, the selection of products to review is based on each reviewer's interests and history of writing helpful reviews. A reviewer may not receive products in categories they are not interested in or have not reviewed before.
2. Swagbucks
Swagbucks is an online rewards program that lets users earn "Swagbucks" or "SB" for completing various tasks, including shopping, surveys, and watching videos. These can then be redeemed for rewards, such as cash, gift cards, or merchandise.
Swagbucks has a program called Product Testing that partners with companies to offer free products to users in exchange for reviews. You sign up for the program and complete a profile survey to qualify for various product tests.
Once selected, you receive a product for free and must write an honest review meeting specific requirements. In return, they earn Swagbucks, the amount of which varies depending on the quality and length of the review.
3. Rebaid
Rebaid is a platform that connects shoppers with sellers who are looking to increase product visibility and gather valuable customer feedback.
You can access a wide range of discounted or free products in exchange for leaving an honest review.
The process on Rebaid is simple and straightforward. Shoppers browse through the available product offers and select the items you are interested in.
Once the purchase is made on a supported retailer's website, shoppers upload their order details to Rebaid. After verifying the purchase, Rebaid refunds a portion of the product cost directly to the shopper's PayPal account.
The purpose of this arrangement is to encourage shoppers to share their experiences and opinions about the products they receive.
4. Pinecone Research
Pinecone Research is a company that conducts market research and compensates its members for completing surveys.
Apart from survey participation, Pinecone Research allows its members to test products. The selection of members for product testing is based on their demographic data and survey responses.
Pinecone Research product testing is focused on consumer products like household items, food and drinks, personal care products, and beauty and skincare items. The available products for testing can differ and may include snacks, toiletries, cleaning supplies, and beverages.
You will receive the product for testing at their residence when chosen for product testing. You will be asked to provide feedback on your experience with the product and your thoughts on its packaging, texture, flavor, and utility.
5. Survey Junkie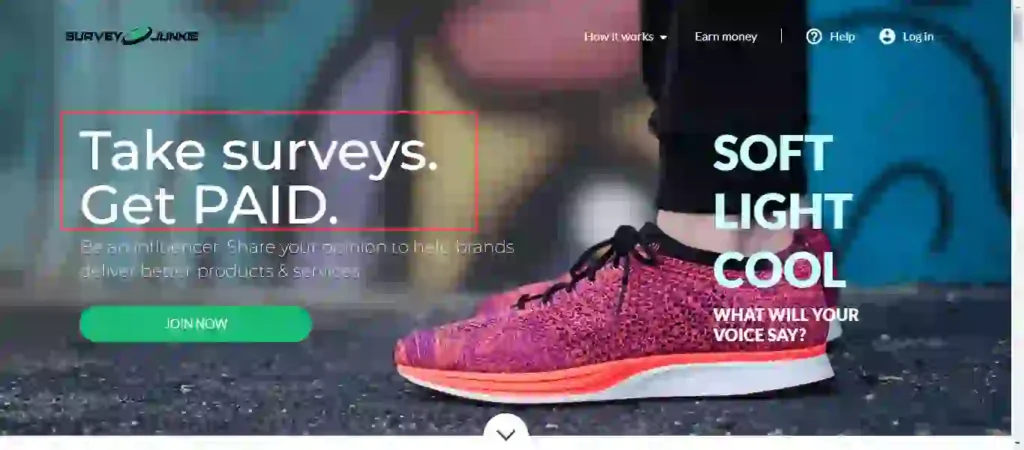 Survey Junkie is a market research company that provides paid surveys to its members and a product review program that enables members to receive complimentary products in exchange for their truthful feedback.
To participate in the product review program, you must complete a profile with your preferences and interests. Survey Junkie will then send them products tailored to their profile, such as beauty and skincare products, household goods, electronics, and food and beverages.
When you receive a product to evaluate, you must utilize it and offer honest feedback through a written review, photos, and videos. Survey Junkie may also request that members share their reviews on social media or other platforms.
Related:
Games that pay instantly to PayPal.
5. SheSpeaks
Joining SheSpeaks allows women influencers to receive complimentary products in exchange for giving reviews. You can create a profile on their website outlining your hobbies and preferences in order to join.
Upon membership, you will qualify to receive products to review based on your profile and demographics. Products for review can span several categories, such as beauty and skincare, food and beverages, household products, and technology items.
Some recent examples of products that have been offered for review are:
Beauty and skincare products such as cleansers, serums, and moisturizers.
Food and beverage items such as snacks, drinks, and meal kits
Household products such as cleaning supplies, laundry detergent, and air fresheners
Technology items such as headphones and wireless chargers
As a SheSpeaks member, you share your experiences with the products on your social media accounts and blogs and leave reviews on the SheSpeaks website.
You have access to unique material, giveaways, and other incentives in addition to getting free things to review. You may also connect with other members and exchange thoughts and experiences.
6. Homeschool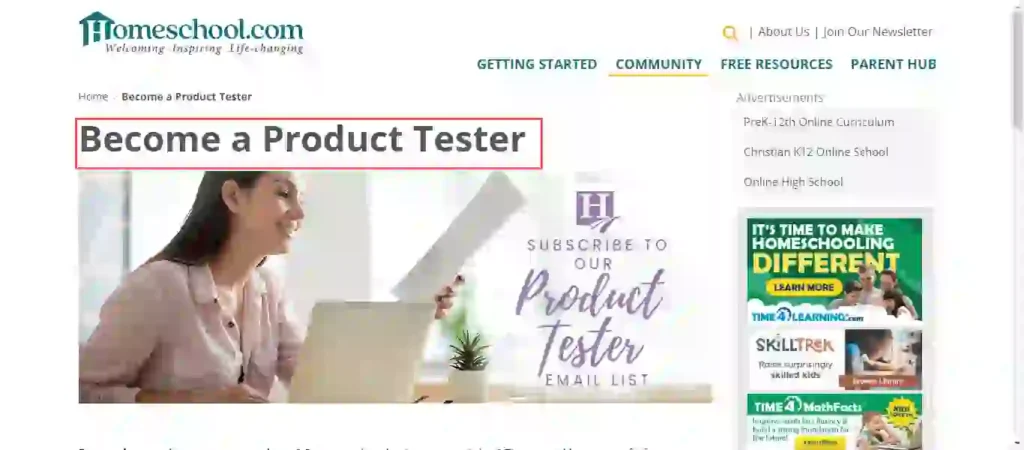 Homeschool is a website that provides homeschooling families with free products in exchange for reviews. The company collaborates with various brands and retailers to offer products that may benefit homeschooling families.
Homeschool's products include educational materials, books, toys, games, and electronics.
You can register for a free account on the Homeschool website to participate. After signing up, you can browse available products and select items you want to receive for review.
Homeschool has a limited number of products available for review at any given time, so checking the website regularly for new opportunities is recommended.
Once you receive a product for review, they must utilize it and provide feedback on their experience. You can keep the product you received for free in exchange for their honest feedback.
7. Influenster
Influenster is a product review site that offers members free products for honest reviews.
To provide its readers with a large selection of cutting-edge products to check out, the website collaborates with companies in a variety of industries like beauty, health, food, and technology.
To begin using Influenster, you must create a profile and connect your social media accounts. This helps the platform learn about your interests and preferences and tailor the products it offers to your preferences.
After creating your profile, you may participate in surveys, write reviews, and share your thoughts on social media to receive prizes and early access to new products.
If they choose you to receive a product, Influenster will ship it to you free of charge. You'll then have a set time to test the product and provide an honest review of your experience.
Influenster's product offerings are constantly changing, but some examples of the types of products they offer include:
Beauty products: makeup, skincare, haircare, and fragrance
Health and wellness products: vitamins, supplements, and fitness gear
Food and beverage products: snacks, drinks, and cooking ingredients
Technology products: gadgets, accessories, and software
Influenster also provides campaigns, which are more structured product review opportunities that necessitate specific tasks, such as creating a social media post or submitting a video review. Campaigns typically provide more rewards and access to higher-value products than standard product reviews.
Related: Benefits and Drawbacks of Reviewing Free Products.
8. MomSelect
You can join MomSelect, a community of moms who have the opportunity to receive free products in exchange for honest reviews. This community focuses on products designed for moms, babies, and children.
As a member of MomSelect, you can receive different types of products for review, including:
Baby and child products: You may receive diapers, wipes, baby formula, baby food, and toys for review.
Household items: You can test home items such as cleaning products, laundry detergents, and kitchen appliances.
Food and beverages: You can experiment with new food and beverage goods such as snacks, drinks, etc.
Beauty and skincare: MomSelect sends out beauty and skincare products for review on occasion, such as cosmetics, skincare creams, and hair care products.
You need to give your honest opinion of a product after receiving it for review on your social media accounts, blogs, and other online channels. Brands and companies will utilize your feedback to enhance their products and marketing efforts.
9. PinchMe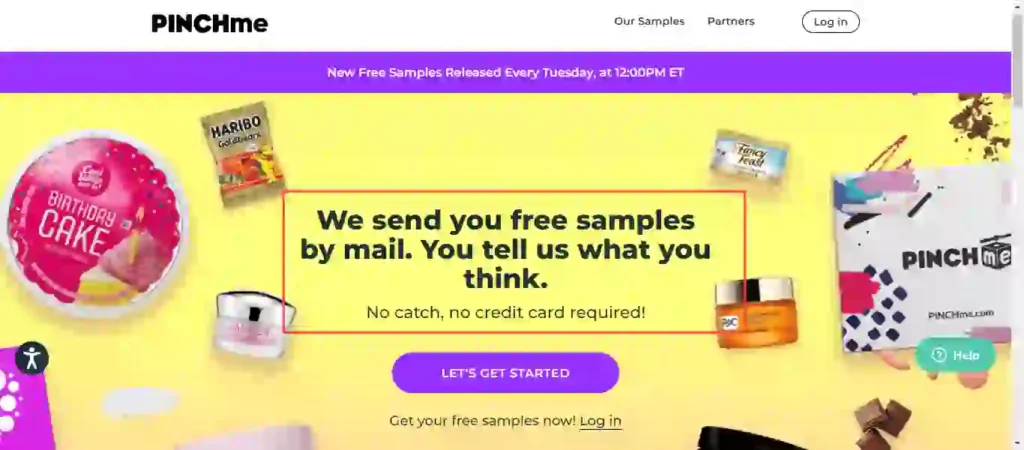 PinchMe is a product sampling and reviewing website that connects users with various brands, allowing them to try out multiple products for free and leave honest feedback and reviews on the site.
You can browse the various items and choose the items to try after creating your profile.
After receiving the selected products, you will be asked to try them and share your honest feedback on the PinchMe website.
Your opinion is critical in supporting brands in improving their products and marketing methods and assisting other users in making informed selections about which things to try.
PinchMe rewards you for your participation and engagement on the site through a scoring system. The more products you try and review, the higher your score will be, and the more products you will be eligible to test.
10. Daily Goodie Box
Daily Goodie Box is a product sampling program that sends out free boxes of goodies to its members monthly. The company's mission is to introduce consumers to new and innovative products from various brands while allowing brands to get valuable feedback from their target audience.
To become a member of Daily Goodie Box, you'll need to sign up on their website and complete a profile questionnaire. The business makes use of this data to customize the products you receive based on your interests and choices.
After you sign up, you'll receive a monthly box of treats containing a variety of full-size and sample-size products from various firms. These items might range from food and drink to household goods and cosmetics and can change from month to month.
After trying the products in your box, Daily Goodie Box encourages you to provide feedback and reviews on their website. This feedback is valuable to the program's participating brands since it helps them understand how consumers receive their products.
In addition to providing feedback, Daily Goodie Box members also have the opportunity to participate in various promotions and giveaways on the website. For example, you may be asked to conduct a survey or watch a video in return for the chance to win additional products or prizes.
11. Brooks Product Testing
Brooks Product Testing is a program that provides free products for testing and review, specifically focused on running shoes and other fitness apparel.
As a company specializing in running shoes, Brooks always seeks to improve its products and deliver the best experience to its customers.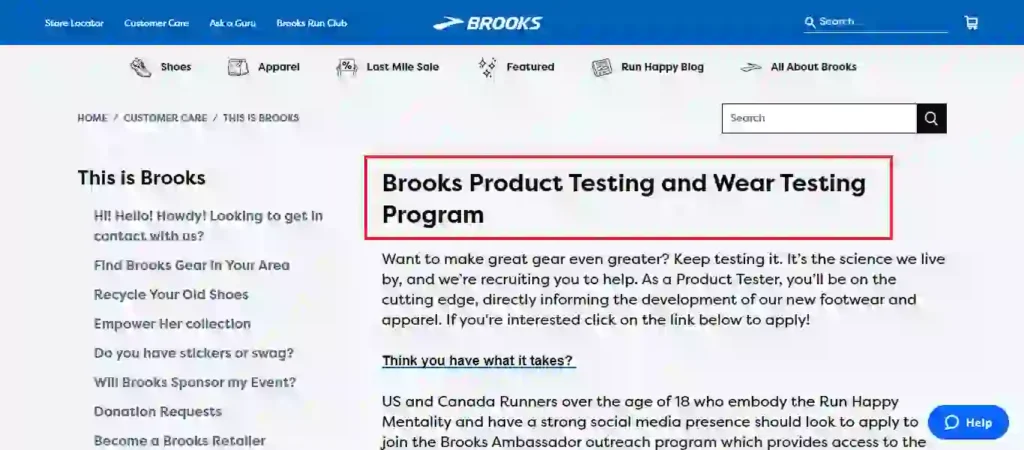 The range of products offered for testing through Brooks Product Testing can vary, but it typically includes their latest running shoe models and other fitness apparel, such as shirts, shorts, and jackets.
When signing up for the Brooks Product Testing program, you must provide information on your fitness activities, shoe preferences, and other pertinent details.
This information aids Brooks in identifying which products best match your interests and requirements, and they will send you products that align with your needs.
Once you receive a product to test, you must use it in your daily fitness activities and provide feedback on various product aspects, such as its comfort, fit, durability, and performance. Brooks uses this feedback to improve its products and better suit its customers' needs.
12. Ibotta
Ibotta is a popular cashback app that offers cash rebates to users for purchases made at various retailers. The company also operates a product testing program where they provide complimentary items to a select group of users in exchange for their feedback.
The types of products offered by Ibotta can vary as they work with a broad range of brands and retailers. For instance, in the past, they have provided users with complimentary groceries, personal care items, and household products for testing and review purposes.
To participate in Ibotta's product testing program, you must be active on the app and frequently engage with the platform. This involves making purchases, redeeming offers, and leaving reviews.
Ibotta typically invites users to join a product test through email or the app, and if they agree, they'll receive the product for free and provide their thoughts on the product through surveys or other feedback mechanisms.
13. Vogue Insiders
Vogue Insiders is a program offered by Vogue magazine that rewards you with free beauty and fashion products in exchange for reviews and feedback.
Skincare, makeup, haircare, scent items, apparel, accessories, and jewelry are among the high-end and luxurious things offered for testing.
The specific products available may vary depending on current trends and promotions. The program partners with various brands such as Estée Lauder, Chanel, La Mer, Dior, and more to offer exclusive pre-release opportunities to its members.
Members invited to participate in product testing campaigns will receive products to try out and provide feedback on and may also be asked to complete surveys, polls, and social media activities related to the products received.
This program is an excellent chance for beauty and fashion enthusiasts to sample new, exclusive products and share their opinions with a broader audience.
Recommended:
14. GatherU
GathrU is a platform for product testing that connects brands with individuals interested in trying out new products and providing feedback.
The product offerings are diverse and may include consumer goods, technology products, health, and beauty products, etc. You can receive food and beverages, personal care and beauty products, household cleaning products, electronic gadgets, etc.
The platform allows you to provide honest and detailed feedback on the products you test, which helps brands improve their products and marketing strategies.
To take part in the program, register an account on the website and fill up your profile. If you accept an invitation from a brand that matches their interests, you receive the product to test and provide feedback.
15. BzzAgent
BzzAgent is a product testing platform that provides various products for its members to test and review, such as beauty products, food and beverages, household cleaning products, pet products, and electronics.
Members get these things for free but are required to give frank opinions of products in online reviews, social media posts, and surveys.
Aside from product testing, BzzAgent also enables you to take part in word-of-mouth advertising campaigns, where you can notify friends and family about a specific product or brand in person or online.
As a result, you can earn additional rewards or incentives while helping brands improve their products and expand their customer base.
16. Toluna Influencers
Toluna Influencers is a platform for product testing that offers users a wide range of products to try and provide feedback on.
The products can vary depending on the brands they partner with. Still, some examples include beauty and personal care items, food and beverage products, household supplies, technology and electronics, and fashion and accessories.
You must create an account on their website and complete your profile to participate. You will receive invitations from brands to test their products, and if you accept, they will send you the product to try and ask for feedback through surveys and reviews. Toluna Influencers also provide opportunities to earn rewards through paid surveys and other means.
17. CrowdTap
CrowdTap is a platform that facilitates brand-consumer interactions for product feedback. The platform provides various items, including beauty products, food and beverage, electronics, and household goods.
You can receive complimentary items such as skincare and makeup products, snacks and beverages, cleaning supplies, and electronics such as headphones and phone accessories. The product range constantly changes, and users can choose from a list of available items.
You can take part in polls, conversations, and surveys about the things you get, which enables you to provide feedback and express your opinions to brands.
Overall, CrowdTap provides various products for testing and reviewing, making it a suitable choice for those interested in trying new products and sharing their opinions with brands.
18. JJ Friends & Neighbors
JJ Friends & Neighbors is a program from Johnson & Johnson that provides you with opportunities to test and review various personal care and health-related products.
The program allows you to receive invitations to participate in surveys, focus groups, and online discussions about the products.
Items such as skin care, baby supplies, vitamins, dietary supplements, feminine products, and over-the-counter medications are available for review.
Your feedback is utilized to help Johnson & Johnson improve existing products and create new ones that better suit customer needs.
While joining JJ Friends & Neighbors is invitation-only and not guaranteed, individuals interested in trying and reviewing Johnson & Johnson products can apply on the company's website.
19. McCormick Consumer Testing
McCormick Consumer Testing is a program offered by the popular spice and seasoning company McCormick & Company.
Program members can receive complimentary products in exchange for testing and providing feedback on new or prototype spices, seasonings, and other flavorings.
McCormick relies on consumer feedback to ensure the quality of their products, and members of the program may be asked to test new blends of spices, seasonings, or innovative flavor combinations.
The company may offer kitchen tools and accessories along with food products. Being a part of the McCormick Consumer Testing program could be an excellent opportunity for food enthusiasts to experiment with new flavors and provide valuable feedback to one of the most reputable companies in the food industry.
Related:
20. InStyle Trendsetters
InStyle Trendsetters is a community that provides beauty enthusiasts with complimentary products in exchange for their feedback.
The program provides skincare, hair care, fragrance, and cosmetic products from both established and up-and-coming firms.
To join, you can sign up on the InStyle Trendsetters website and complete a profile indicating your preferences and demographics. Once enrolled, you will receive opportunities to participate in product testing and surveys that align with your interests and profile.
When selected to test a product, you receive the item for free and are instructed on how to use and evaluate it.
Subsequently, you are requested to provide your opinions and experiences through a survey or questionnaire. You may also be asked to share your views on social media or write online reviews.
21. The Pink Panel
The Pink Panel is a company that specializes in beauty product testing and offers free products to members who provide honest feedback. They send out makeup, skincare, and hair care items to members for reviews and collaborate with numerous beauty businesses.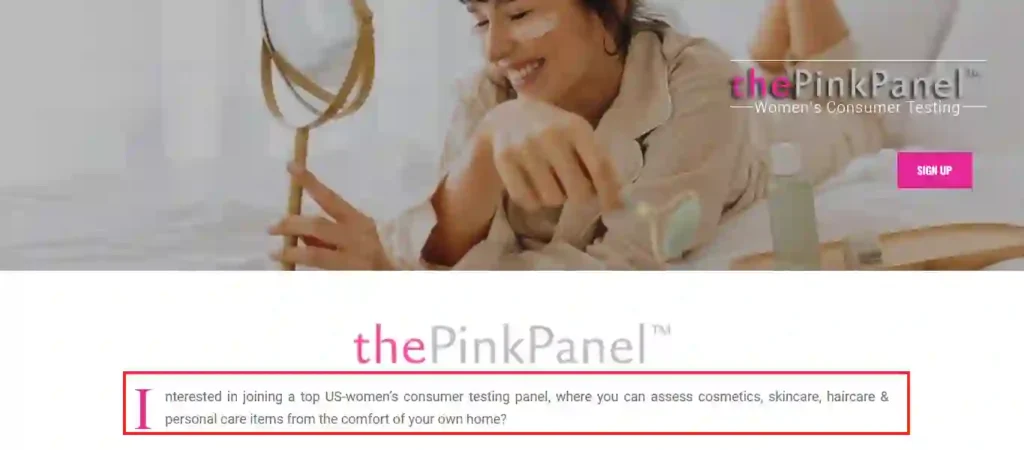 They will match you with things depending on your profile after learning your age, skin type, and hair type when you sign up as a member on their website.
You must give feedback on the product's effectiveness, simplicity of use, and packaging. You may also be asked to submit pictures or videos of you using the item. You may receive compensation or additional products for future review in exchange for their feedback.
22. RebateKey
RebateKey is an online platform that provides cashback offers and deals on various products from different retailers. RebateKey partners with numerous brands and retailers to offer discounts and rebates on multiple products, including household items, electronics, and beauty products.
To avail of the rebate offer, you must purchase the product at the total price and submit an authentic review on the RebateKey website. Once the review is validated, you will receive a rebate equivalent to the purchase price. The rebate can be obtained via PayPal or a mailed check.
RebateKey aims to assist users in saving money on their preferred products while simultaneously providing businesses with an opportunity to increase their brand's visibility and gather reviews for their products.
23. Smiley360
Smiley360 is a platform that allows individuals to review products for free in exchange for honest feedback. It offers products in food, drink, household items, pet supplies, cosmetics, and personal care products.
To join, you should create a free profile and select your preferences. You are matched with campaigns that fit your profile, allowing you to try various products and provide detailed feedback through social media platforms, review websites, and email surveys.
Smiley360 offers a fun and interactive way for consumers to discover new products and share their opinions with others while providing valuable feedback to brands.
24. American Consumer Opinion (ACO)
American Consumer Opinion (ACO) is a market research company that has operated since 1986, providing paid surveys and product testing opportunities to its members. ACO conducts online surveys on various topics such as consumer goods, healthcare, and travel.
Additionally, the organization gives its customers the chance to try products and give comments on a variety of goods.
ACO product testing campaigns include consumer goods such as food and beverages, personal care products, household items, and technology products.
Members are often sent free products to their homes to use and provide feedback. Members can keep the products they test and are encouraged to provide honest feedback to the company.
The company selects participants for product testing campaigns based on its members' demographic profiles and interests. Members receive an email invitation to participate in a product testing campaign and can choose to accept or decline the invitation.
25. HomeTester Club
HomeTester Club is an online community that provides complimentary products to members in exchange for authentic reviews. You can register for free on the HomeTester Club website and participate in various product testing campaigns across several categories.
HomeTester Club provides products across various categories, including food and beverages, health and beauty, household, and pet care products. You can get free makeup, perfume, grooming supplies, snacks, drinks, cleaning supplies, laundry detergents, home appliances, pet food, toys, and skincare and haircare goods.
To receive complimentary products from HomeTester Club, you must complete a brief survey to determine their suitability for specific product testing campaigns.
If chosen, you will receive the product for free to test and share your feedback on the HomeTester Club website, social media platforms, and other review websites. HomeTester Club also offers members exclusive discounts and special offers on products you review, enabling you to save money on future purchases.
27. Vocal Point
Vocal Point is a platform that connects brands with consumers who test and provide product feedback. They provide a vast selection of goods from well-known companies like Pantene, Coca-Cola, and Tide, including skin care, food, drink, and home goods.
Members are selected based on their demographic profile and interests, and they complete surveys and other activities to qualify for product testing campaigns. Members also receive exclusive coupons, discounts, and special offers.
Vocal Point creates a community of product enthusiasts who share opinions and experiences. It allows consumers to try new products, provide feedback, and connect with brands.
Final Thoughts On Companies That Send Free Products To Review
In summary, numerous companies offer complimentary products in exchange for genuine and honest reviews.
This list includes businesses catering to various industries, such as technology, beauty, and household goods.
Maintaining honesty when providing feedback is essential, and potential collaborators should be contacted for further details. Participating in these opportunities offers free product samples and a community contribution platform.
Do not hesitate any longer; take advantage of these prospects and find your perfect product to review now!
Also read:
Frequently Asked Questions