Tired of having your Pokemon cards just sitting around collecting dust? Have you been searching for the best way to convert those cards into fast cash? If so, then you've come to the right place!
Selling your Pokémon cards can be a great way to make extra money without much effort.
But, it's time-consuming and confusing to determine which marketplace to sell Pokémon cards and where to get the most bang for your buck.
In this article, I'll discuss the 16 best places to sell Pokemon cards for cash in 2023. Whether you have rare first-edition cards or a common base set, I've got you covered.
I'll review the top sites, discuss how to get the best deals, and provide expert tips so that you get the most out of your sale.
Where To Sell Pokémon Cards
eBay
With over 140 million active buyers worldwide, there's no shortage of interested Pokémon card collectors. eBay offers a wide selection of cards and related items, which means you can find almost any Pokemon card you're looking to sell.
Putting your cards up for sale is easy, as you can list your items quickly and easily with detailed descriptions, photos, and tags. You can also control the payment and shipping details, giving you peace of mind when selling.
eBay also offers helpful analytics so that you understand what buyers are looking for and how to market your Pokemon cards best.
What I Like/Dislike
Like
Allows listing multiple card versions so buyers can compare different versions and prices.
Offers various tools and services that ease you to list your cards and manage orders.
Exposure to millions of potential buyers.
Low listing fees.
Buyers can pay with PayPal, offering a secure payment option.
Ability to set your price.
Relatively low risk of fraud.
Dislike
Competition with other sellers (which could drive prices down).
Risk of negative reviews from unsatisfied buyers.
Need to be familiar with the rules and regulations.
OfferUp
With its user-friendly interface and secure payment options, anyone can easily buy or sell Pokemon cards on OfferUp. Additionally, the platform facilitates you to communicate with buyers and sellers in a safe and secure environment.
To start, create a profile on OfferUp and add your card collection. Provide detailed pictures and descriptions of the cards, so buyers get an idea of what they are purchasing.
Additionally, OfferUp provides a rating system for its users, so it is essential to be honest while selling on the platform.
With secure payment options, detailed search options, and user ratings, OfferUp might be the best marketplace for Pokémon fans and collectors of all levels.
What I Like/Dislike
Like
Easy to use platform.
Ability to connect with local buyers.
Allows you to list cards for free.
Less chance of getting scammed.
Dislike
Time-consuming to list individual cards and take pictures.
Can be challenging to sell cards quickly.
Shipping costs may be high.
Card Cavern
Card Cavern is the perfect place to shop for classic and rare cards to boost your collection or grow your trades!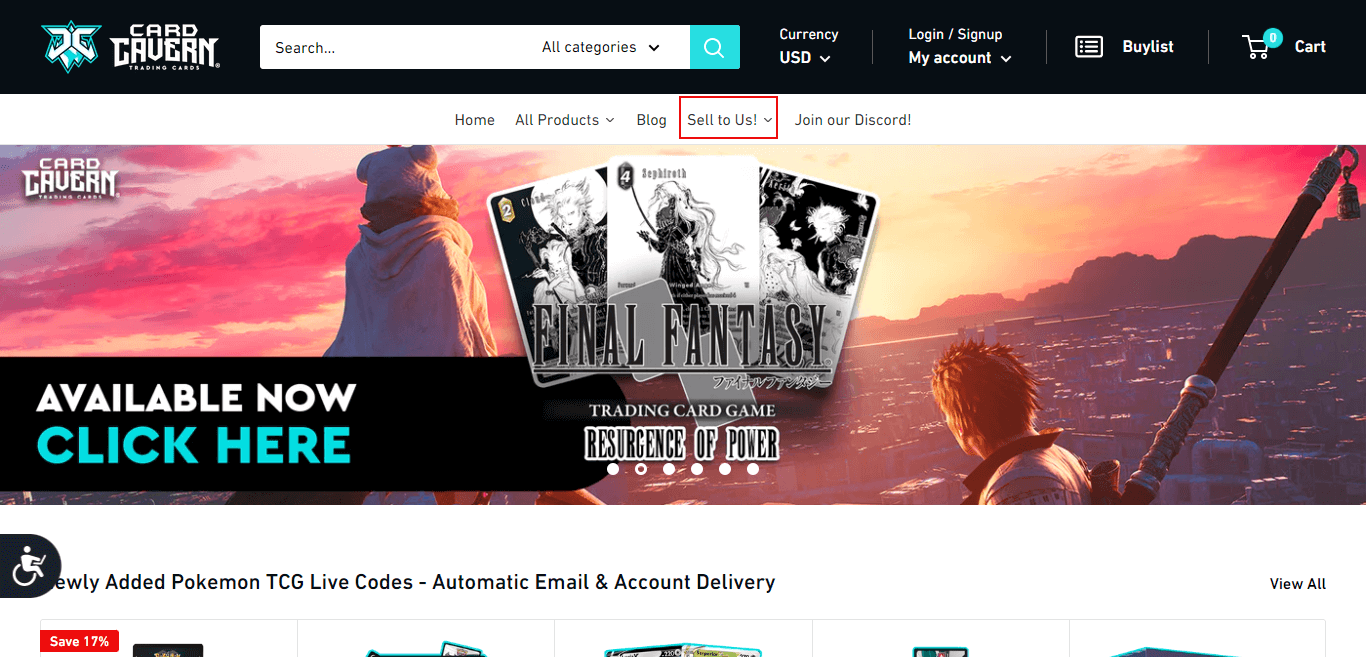 With a wide selection of cards and easy-to-use tools, you can create a listing and sell in no time.
Their secure payment system ensures your safety when trading, and free shipping labels make sending off cards easy. Plus, their marketplace offers helpful guidance for making your listing stand out.
What I Like/Dislike
Like
Can sell cards from different sets and editions.
Easy to list items and start selling.
Chance to find rare cards.
Low fee for listing items.
Dislike
You need to have a strong knowledge of the market and cards.
Can be challenging to keep up with new sets and editions.
May have to deal with a lot of haggling.
Related: Make money online for beginners.
CCG Castle
Located in New York City, CCG Castle is one of the most trusted stores for buying and selling Pokemon cards. They have a large selection of cards ranging from the latest release to rare.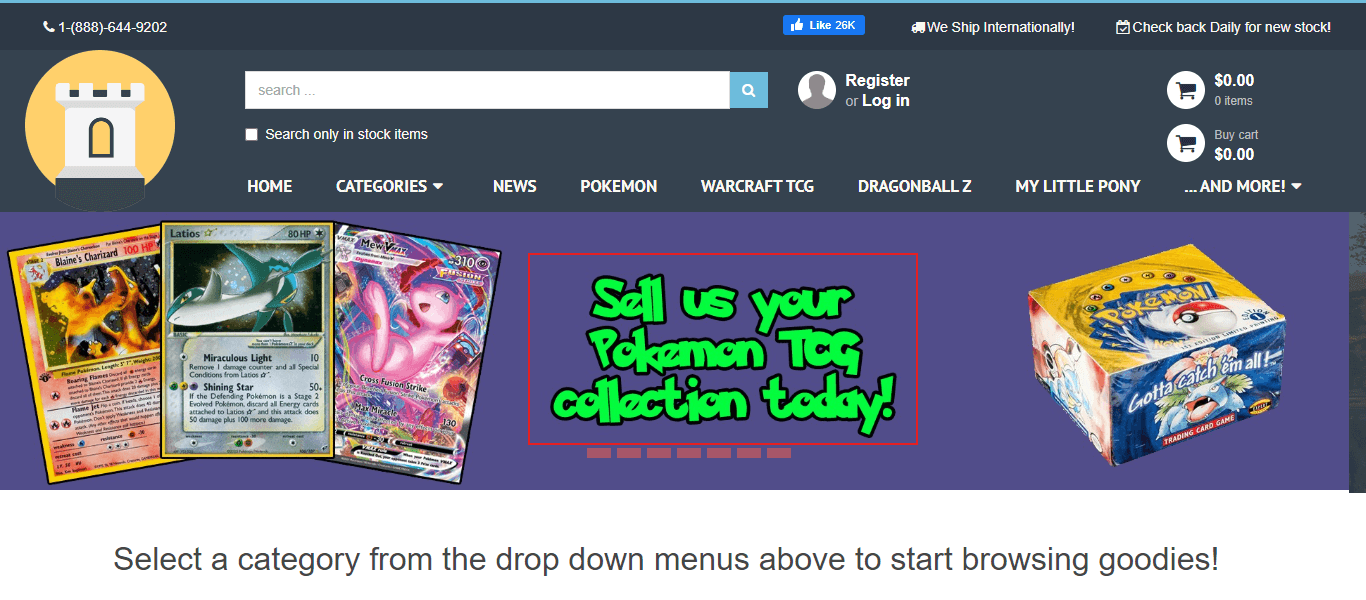 They carry a selection of booster boxes, packs, singles, and other gaming accessories. CCG Castle also offers various services, such as grading, trading, and consignment services.
The team at CCG Castle is experienced so that you can get the best price for your cards. They also offer a wide selection of products, so there's something for every Pokémon fan.
What I Like/Dislike
Like
Ability to have an extensive collection for sale.
Access to a wide variety of Pokémon cards.
Quickly list items and manage inventory.
Sellers have access to ratings and feedback.
Low fees.
Dislike
Limited control over pricing and product promotion.
Limited seller support and customer service.
Can be challenging to establish trust with buyers.
Mercari
Mercari is a great place to start, as it has a low barrier to entry—all you need to do is create an account and list your items. You can even set your prices which is perfect if you have rare Pokémon cards that could fetch a high price.
You can sell individual cards or entire collections- whatever works best for you. Plus, when you list your cards, Mercari will give you an estimated value, so you know what they're worth.
Once you've listed your cards, you'll need to package them securely and ship them out. Mercari even has built-in tracking software so you can easily monitor the progress of each shipment.
When it comes to payment, Mercari offers lots of options as well. You can take payment with credit cards, debit cards, and even Apple Pay.
What I Like/Dislike
Like
Mercari handles all payment processing and shipping.
No listing fees or membership fees are required.
Ability to set prices for cards and negotiate with buyers.
Potential to make a good profit by selling rare or valuable cards.
Dislike
High seller fees (roughly 10-15%).
Risk of counterfeit or fake cards being sold on the platform.
Beckett Marketplace
Selling Pokémon cards on Beckett Marketplace can be an exciting and rewarding experience. From finding the right price to setting up a listing, Beckett Marketplace eases to maximize your profits. You don't even have to worry about shipping – Beckett Marketplace will take care of it.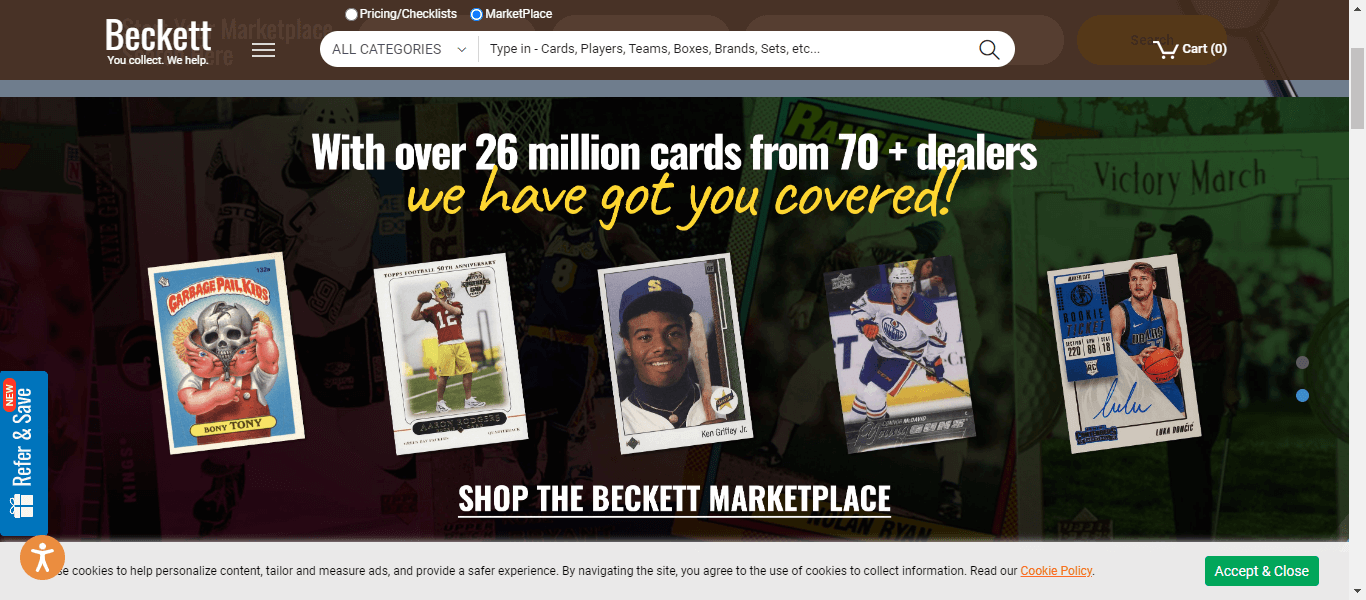 To start, you'll need to create a username and account, then upload photos and descriptions of the cards you want to sell. You can also add your price for each card and adjust it as needed to get the right buyer.
And if you need more information about selling, Beckett Marketplace has a wide selection of helpful resources. They also handle the payment processing for you, so you can be sure to get paid.
What I Like/Dislike
Like
Access to an extensive network of Pokémon card collectors.
Ability to determine the prices of cards using Beckett's market value tools.
Ability to quickly and easily list cards for sale.
Established pricing guides, trading rules, and buying policies make the marketplace safe to buy and sell.
Access to Beckett's grading services.
Dislike
Fees charged by Beckett Marketplace for listing and selling items.
Listing may be removed if it fails to comply with their policy regarding authenticity and condition.
Competition among sellers may lead to lower prices and slower sales.
Related: Learn about best apps that give free sign up money.
TCG Player
TCGPlayer is a popular destination for many Pokémon card collectors, allowing them to quickly search, buy, or sell cards of any type.
You can either list your cards for sale one by one on the platform, or you can utilize the "bulk seller's function.
Through the bulk seller feature, you can enter each card's specifics that includes the edition, condition, quantity, and price, and have them all posted simultaneously. Once your cards are listed, buyers will have the chance to find and purchase them.
When a card is sold, TCG Player takes a fee for their services, typically 10-15%, but that's a small price to pay for the convenience and safety of using an online marketplace.
What I Like/Dislike TCG Player
Like
A variety of payment methods is supported.
Convenient platform to list and manage sales.
Multiple ways to advertise your products.
Ability to set your prices.
Dislike
Reliance on external payment processing services.
Difficulty finding buyers for expensive cards or low-value cards.
Long processing times for individual orders.
Dave And Adam's
Dave and Adam's is one of the premier places to sell Pokemon cards. It is one of the oldest and most trusted card stores and offers sellers the chance to get the best value for their cards.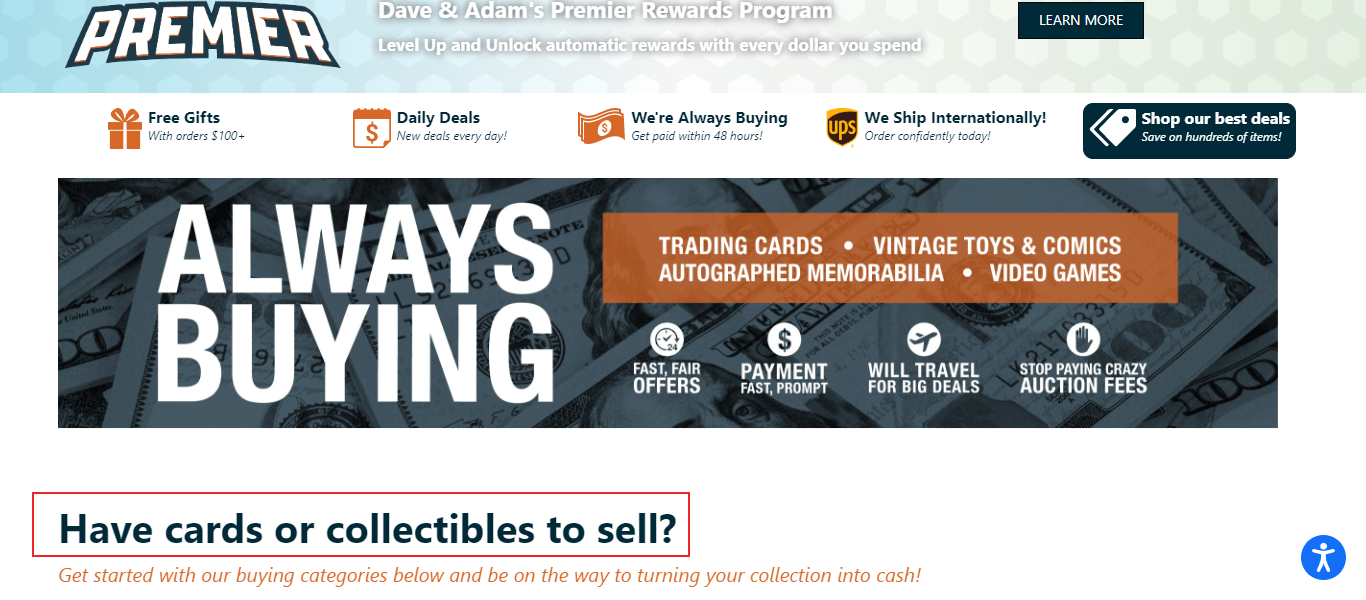 Dave and Adam have a vast selection of cards that includes many rare and hard-to-find Pokémon cards.
They also offer competitive prices for their cards and provide expert knowledge to guide sellers toward their biggest profits. Sellers will receive payment for their cards quickly and securely.
What I Like/Dislike
Like
Largest selection of Pokémon cards and accessories.
Free shipping on orders over $50.
Secure online store with easy checkout.
Professional grading process to ensure card authenticity and condition.
Dedicated customer service team.
Dislike
Fees associated with listing items on Dave and Adam's.
Shipping costs may be expensive.
Items must be listed individually, making the process time-consuming.
Etsy
With millions of active shoppers, Etsy is the perfect platform for Pokémon enthusiasts to turn their cards into cash.
The process of selling Pokémon cards on Etsy is simple. To start, create an account and select "Sell on Etsy." From there, you'll need to take photos of the cards you want to sell and upload them to your account.
Describe each card accurately and list the cards in their appropriate categories. Pay to list the cards and decide how much you want to charge for them. Once they're listed, shoppers can view and purchase your cards.
Etsy is an excellent platform for selling Pokémon cards. With low fees and millions of active shoppers, it's one of the best ways to turn your cards into cash. With some time and effort, you can easily create successful listings and make sales.
What I Like/Dislike
Like
Get exposure to a vast audience.
Potential to reach customers all around the world.
Ability to customize store and product listings.
Variety of payment options is available.
Easy to use user interface.
Dislike
Competition from other sellers.
Etsy fees.
Potential for counterfeit cards.
Risk of negative feedback from customers.
Troll and Toad
Troll and Toad is an established and reputable online marketplace that specializes in trading card games, including Pokémon cards. It has gained recognition as a reliable platform among collectors and players.
With a large customer base and a dedicated focus on trading cards, Troll and Toad provides a convenient and trusted avenue for selling Pokémon cards.
What I Like/Dislike
Like
Extensive inventory attracting a diverse customer base for potential sales.
Established reputation within the trading card community ensures trust and reliability.
User-friendly interface simplifies listing and selling process.
Sellers have control over pricing with guidance available.
Access to a large customer base enhances chances of finding interested buyers.
Dedicated platform for trading card games, including Pokémon cards.
Dislike
Transaction fees impacting overall earnings.
Intense competition among sellers due to platform popularity.
Limited control over platform policies and changes.
Additional costs and effort for packaging and shipping sold items.
Sell2BBNovelties
Sell2BBNovelties is an esteemed online marketplace that provides a seamless and convenient channel for selling Pokémon cards.
Whether you seek to downsize your collection, generate additional income, or find new owners for your valuable cards, Sell2BBNovelties offers a user-friendly platform dedicated to facilitating the selling experience.
With their expertise in dealing with collectibles, you can be confident that you're engaging with a platform that comprehends the value and significance of Pokémon cards.
What I Like/Dislike
Like
Streamlined selling process.
Wide range of collectible items accepted.
Competitive prices offered.
User-friendly platform.
Convenient and hassle-free experience.
Expertise in dealing with collectibles.
Dislike
Limited to online transactions only.
Possible variability in offered prices.
Potential delays in payment processing.
Limited direct interaction with potential buyers.
Cape Fear Games
Cape Fear Games is a well-regarded gaming store that has gained popularity among collectors and enthusiasts of trading card games, board games, and other gaming-related hobbies.
With a physical store based in Wilmington, North Carolina, Cape Fear Games offers a unique shopping experience for gamers and collectors. Additionally, they provide an online marketplace, enabling convenient selling opportunities for Pokémon card owners worldwide.
The store takes pride in its friendly and knowledgeable staff, who possess a genuine passion for gaming and are capable of offering valuable insights and assistance to sellers.
Whether you're an avid Pokémon card collector or a casual player seeking to sell some cards, Cape Fear Games is a trusted destination to consider for a reliable and enjoyable experience.
What I Like/Dislike
Like
Reputable gaming store with a dedicated customer base.
Physical store in Wilmington, NC, providing a unique shopping experience.
Online marketplace for convenient selling opportunities.
Knowledgeable and friendly staff offering valuable insights and assistance.
Specializes in trading card games, including Pokémon cards.
Dislike
Limited geographical reach due to the physical store location.
Online marketplace may have competition from larger platforms.
Selling prices may vary and depend on market demand.
Limited availability of certain rare or exclusive Pokémon cards.
Where To Sell Pokémon Cards Near Me?
Local Comic Book Store or Game Store
While you may get a better price by sending your cards directly to card manufacturers or by selling them online, many local comic book stores and game stores buy Pokémon cards that pay you extra cash quickly and easily.
When selling, ensure the store specializes in Pokémon cards specifically. Ask the store owner what they are looking to buy. Also, don't be afraid to negotiate.
Most comic book and game stores have dedicated racks for trading and selling cards that ease finding a buyer. You can also trade and barter with other card collectors in the store and potentially come away with a new set of cards.
What I Like/Dislike
Like
Customers may already be familiar with the store and trust them to buy from it.
May have a built-in customer base of regular customers.
Potential to build relationships with customers and expand customer base.
Provide a hands-on experience.
Access to a large local population of potential customers.
Dislike
Limited space.
Lack of visibility for online sales.
Limited control over pricing and product selection.
Facebook Marketplace
Facebook Marketplace is the perfect platform to list and sell Pokémon cards quickly for making easy money. FaceBook marketplace only charges you a 5% transaction fee for each item shipped from your shop, which is less than the 15% that eBay and Mercari charge.
Facebook Marketplace incorporates several features, such as ratings and reviews, to ensure buyers find trustworthy sellers for the best possible experience.
To start selling, you need to create a listing on Facebook Marketplace with detailed information and pictures of the cards you'd like to sell. You should also include an accurate description of the condition of the card with clear and professional photos.
Once your listing is up, you can start advertising it on Facebook so potential buyers can find it. Before starting any conversations, read over Facebook's Marketplace policies, so you understand the rules and safety regulations.
What I Like/Dislike
Like
Easy to access a large customer base.
Low commission fees.
Easy to search for and find rare cards.
Ability to reach potential buyers quickly.
No need to deal with eBay fees or other third-party sales platforms.
Ability to save time and money on listing fees.
Dislike
No protection against fraudulent buyers or scammers.
Potential buyers may try to haggle for a lower price.
Difficulty in verifying the authenticity of cards.
Marketplace may be saturated with Pokémon card sellers.
Craigslist
Craigslist allows you to list your cards for free, giving you an easy and convenient way to sell your cards. You can even haggle to negotiate a better price for your cards with potential buyers.
To get started, create a listing on Craigslist with a brief description of your cards and the asking price. Be sure to include photos of the cards in the listing so potential buyers can see their condition.
Also, include all essential details such as set, number, and unique features. You should also be prepared to answer any questions potential buyers might have.
What I Like/Dislike
Like
Low-cost selling platform.
Ability to target local buyers.
No need to pay online transaction fees.
Reach a large audience.
Easy to list and manage items.
Dislike
Challenging to guarantee the authenticity of cards.
High risk of dealing with people online.
Risk of being scammed.
Pawn Shops
Pawn shops are businesses that provide loans to individuals in exchange for personal items used as collateral.
Pawn shops are often overlooked as a potential avenue for selling Pokémon cards, but they can be a viable choice for those seeking a quick sale.
Pawn shops specialize in buying and selling used items, and although not all may deal with collectibles, some express interest in purchasing rare or valuable items like Pokémon cards.
What I Like/Dislike
Like
Fast Cash: Pawn shops provide immediate payment, ensuring quick access to funds.
Convenience: Selling at pawn shops is often hassle-free and convenient.
Offline Transactions: Avoid the complexities and risks associated with online marketplaces.
Expert Evaluation: Pawn shop staff are experienced in assessing Pokémon card values.
Local Accessibility: Physical stores offer a local selling option with in-person interactions.
Dislike
Lower Prices: Pawn shops generally offer lower prices compared to specialized platforms.
Limited Target Market: Pawn shop customers may not actively seek Pokémon cards.
Limited Reach: Without an online presence, your cards may only attract local customers.
Pro Tips For Selling Pokemon Cards
Some of the expert tips for selling pokemon cards are:
Organize the cards you plan to sell by set, edition, and rarity.
Research your cards before listing them to ensure you have the correct information and accurate grading.
Take high-quality, high-resolution images from multiple angles to best showcase your cards.
Include detailed item information and item condition in your listing.
Provide excellent customer service and reply to any customer questions promptly.
List cards in lots when possible to increase visibility and attract more buyers.
Offer discounts for bulk purchases.
Start with low starting prices to get more bids and have the best chance of a higher final sale price.
Allow buyers to make offers, so they feel like they're getting a good deal.
Offer a variety of payment options to accommodate buyers.
Pack and ship orders carefully, so the cards arrive in the same condition as advertised.
Keep track of your sales and profits to monitor your success accurately.
How to get the best deals for selling Pokemon Cards?
Some proven ways to get the best deals for selling Pokemon cards are;
Consider different ways to market and sell the cards.
Try to find buyers that specialize in certain Pokemon cards.
Check online auction websites for competitive pricing.
Set a fair price for the cards and be prepared to negotiate.
Follow trends in the Pokemon card market and adjust your prices accordingly.
Advertise the cards in forums or communities related to Pokemon.
Utilize social media platforms like Facebook and Twitter to spread the word.
Create a website or blog to showcase your cards and attract buyers.
Build relationships with local game stores interested in buying cards.
Consider working with reputable and reliable online retailers for more significant sales.
Keep track of your inventory and monitor changes in demand.
Be patient – getting the best deals for selling your cards may take some time.
FAQS
Conclusion
It is clear that when it comes to selling Pokémon cards, you have many options. While eBay is the most popular choice, the other options listed have advantages and drawbacks. It is up to you to decide which option best fits your situation and goals.
When selling your Pokémon cards, you should double-check applicable regulations and be aware of potential scams. If you keep these things in mind, you should be able to find the best place to sell Pokémon cards and get the most bang for your buck.